05 Jun

The Physical Training Company's new Website
A website is your storefront in the digital landscape
You might not know this, but one of our specialities is fitness marketing. We have been a fitness marketing agency in UAE for more than 5 years. We recently completed a redesign of The Physical Training Company's website. The Physical Training Company is a personal training company in Dubai that is location-independent, offering the services of a team of highly educated and highly skilled team of personal trainers and coaches who provide personal training in Dubai, specializing in areas such as pre/postnatal training, injury rehabilitation and recovery as well as more traditional weight loss, strength and athletic conditioning.
When developing a website, its important to prioritize the viewport that is most commonly used by the high quality traffic visiting your site. If the majority of website visitors are mobile users, such as in this case, then it makes sense to make your website MOST effective in it's mobile form.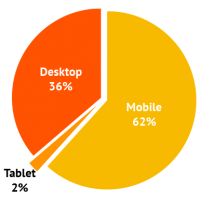 This is also why it makes sense to have specially designed versions of each page which are mobile optimized, small touches, such as incorporating a Whatsapp button or a Call Us button, can enhance engagement rates.
Of course, since a significant proportion of traffic is coming from desktop computer users, it makes sense to ensure the desktop design is also great, and we find creating videos for these elements to be a great opportunity to showcase what the business in a highly engaging manner.