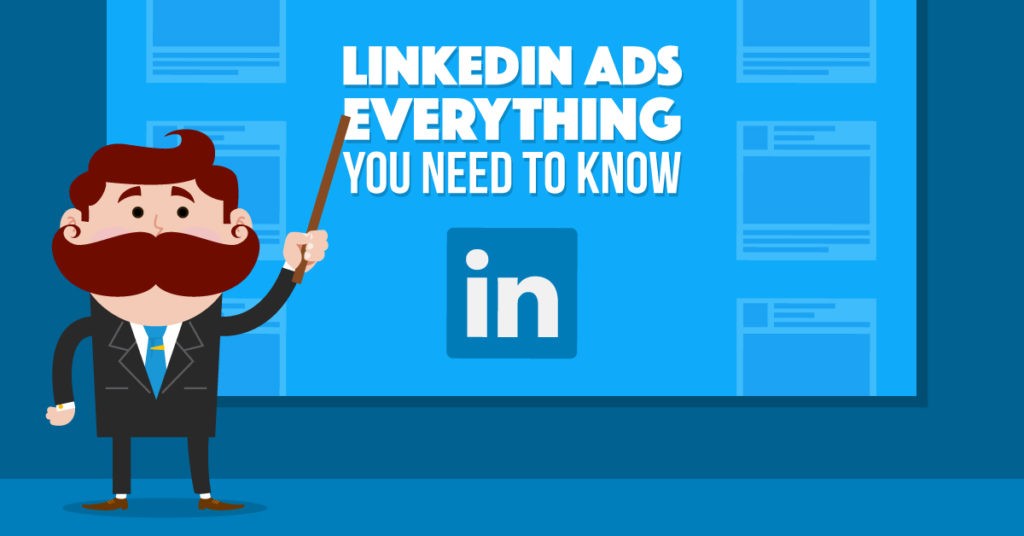 05 May

LinkedIn Ads: Everything You Need to Know (Step-by-Step Tutorial Included)

[ad_1]


Moment of truth: do you use LinkedIn Ads?

If I had to place a bet, I would guess that most people reading this post have not run an ad campaign on LinkedIn.

If you haven't, you're in the majority—only one of my clients has ever run a LinkedIn campaign.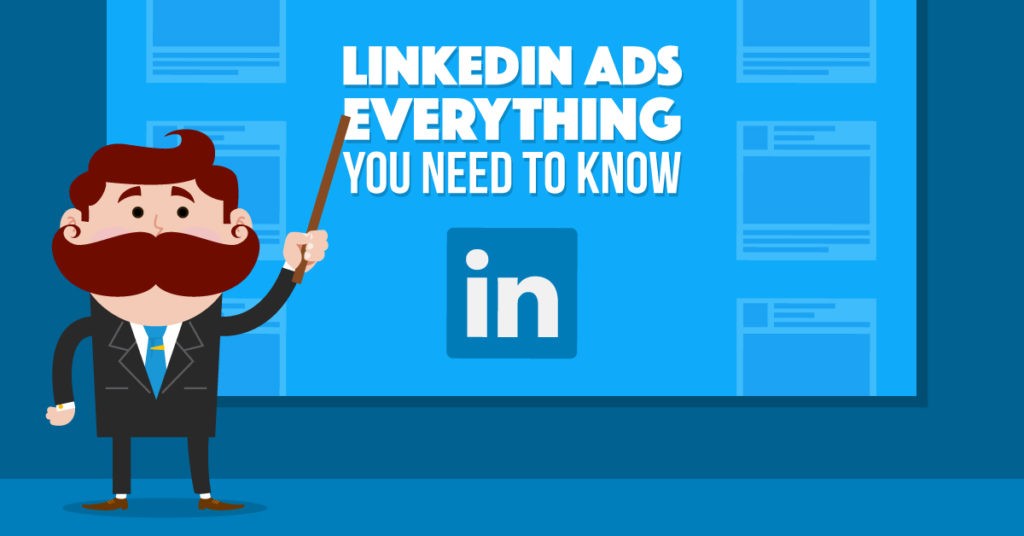 That's a shame; LinkedIn Ads can provide immense value for certain businesses, especially when they're used correctly.
And that one client? They got results that they were really happy with. Do you want the same? Just keep reading then!
We're going to give you everything you need to get started with LinkedIn Ads, including a step-by-step tutorial.
We've talked a lot about Facebook Ads, Twitter Ads, Promoted Pins, and Instagram Ads, but LinkedIn Ads don't get a lot of attention—on any site.
We're going to change that right now!
What Do LinkedIn Ads Look Like?
LinkedIn Ads works on a bidding system like other ad platforms, and lets you show an ad to the audience of your choice. You can target specific audiences, and control your budget. This is all similar to what we've seen on other platforms. The ads themselves, though, have slightly different formats from what we're used to.
The formats include:
Sponsored content, which is similar to Facebook Ads; your content, like links to a post or a status update, will be displayed in users feeds. These ads appear seamless, and are only marked as ads by the small "Promoted in the top right when corner." They can be displayed on mobile devices, tablets, and desktops.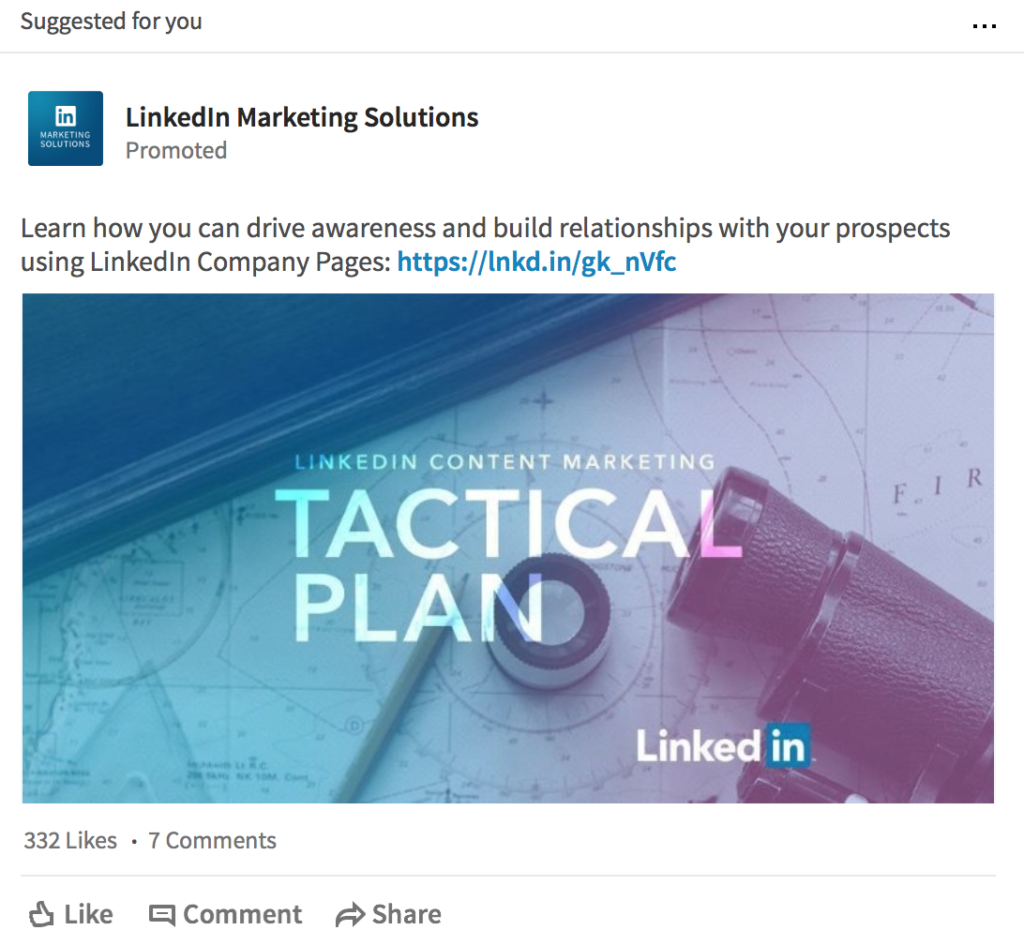 Sponsored inmail, which lets you mass-deliver private messages to the inboxes of your audience. They can be shown on all placements.

Text ads, which are similar to ads in Facebook's side bar; these will be small and brief, off to the side of the site's feed. These ads are available only for desktop placement.

Like Facebook, ads that put you most directly in front of users will likely yield the best results. These ads are the sponsored content and sponsored inmail formats, which fit more seamlessly into the platform and thus have a slightly higher chance of user engagement.
Which Ad Type Should I Use?
Each ad type as different advantages and best use cases.
Sponsored content is ideal if you want to get plenty of eyes on your content, like blog posts or business announcements, driving engagement. It's also helpful if you want to get more followers for your on-site Company Page. The format of the actual ad lets you share valuable information that can help you with lead generation and nurturing, in addition to brand awareness.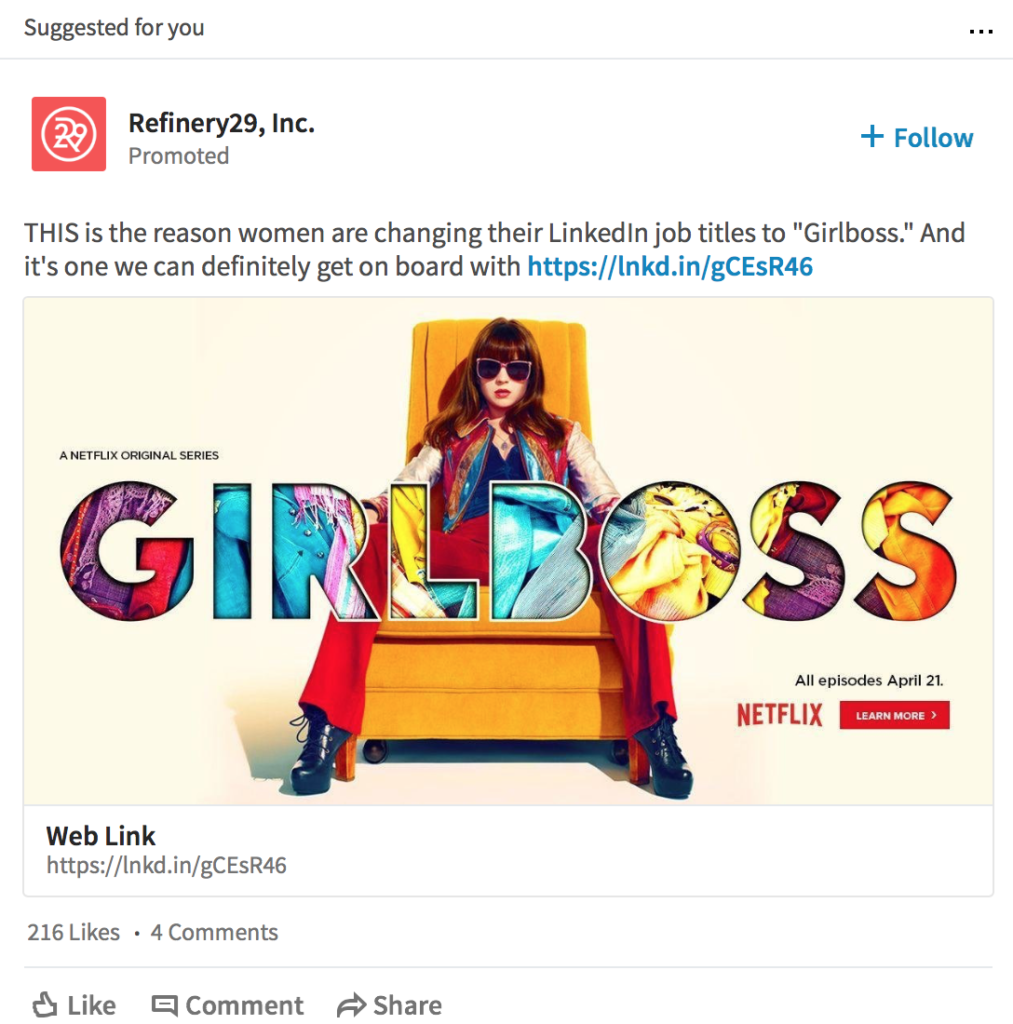 Text ads are most effective if you want to show your ad to as many people as possible. They can be helpful at driving conversions and are most effective when you use highly targeted campaigns. A great example would be an MS program advertising to potential students. You can also run text ads even if you don't have a Company Page.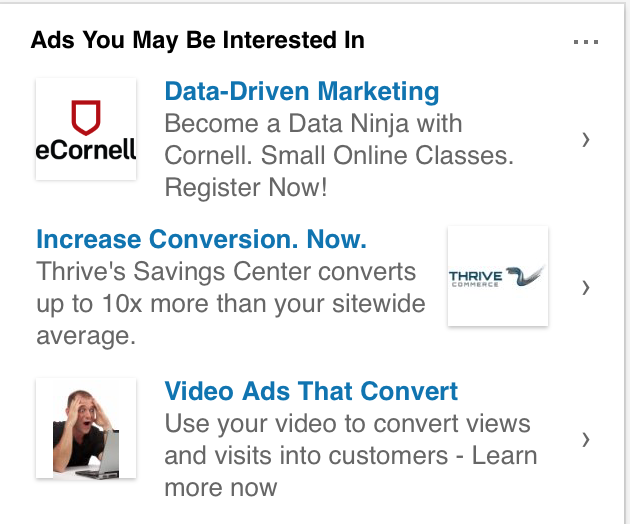 Sponsored Inmail feels highly personalized because you're delivering content right to a users' inbox; their interest is automatically piqued, and they get a notification of a message. You can add a CTA button to the messages, allowing you to drive conversions effectively, whether you're trying to get downloads of your ebook or registrations for your next event. The other great perk of Sponsored Inmail ads is that they're only delivered to users who are actually active on LinkedIn.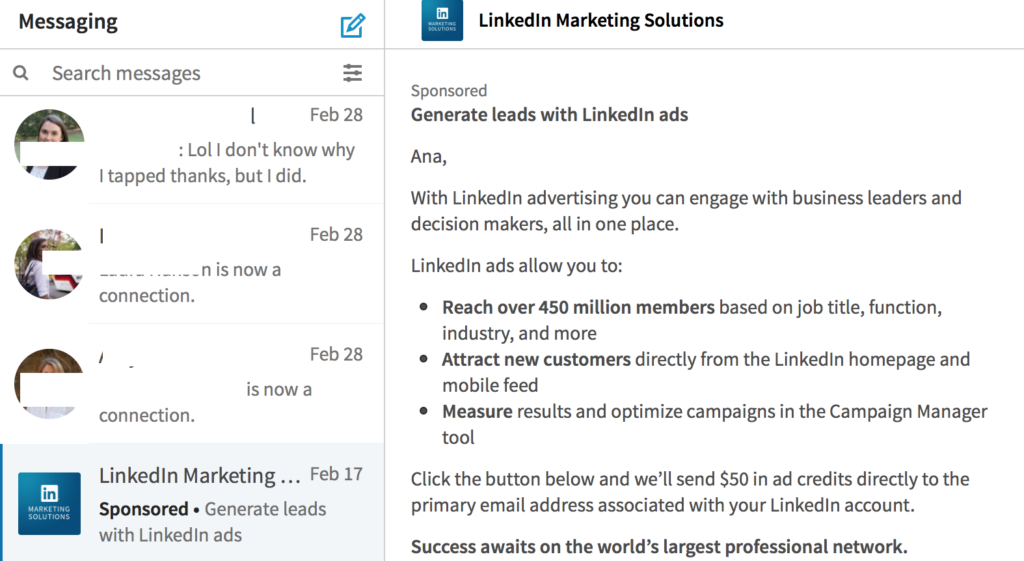 Who Should Use LinkedIn Ads?
LinkedIn is a professional platform, making it different than all the other platforms we discuss on this site. People predominantly use this site to:
People who use this site aren't necessarily doing so for enjoyment; it's a professional site, like a professional networking event, and it needs to be treated as such. People won't be interested in emotional appeal products; they're interested in software for their business and education to advance their careers and phone answering services instead.
Because of this, B2B businesses will have the best results on the platform. In very rare cases, some B2C businesses that offer professional services to consumers (like consulting, training, or education). The exception to this is if you're using LinkedIn Ads to recruit or find new employees; in this case, any business could use the ads to great success.
How to Create LinkedIn Ads
To create LinkedIn Ads, you'll start at your campaign manager which can be found here. You'll first be asked to choose which type of campaign you want. Unlike other platforms, you CAN'T choose multiple placements at once, but that's ok; each of these ad formats is so different, they require completely different creatives.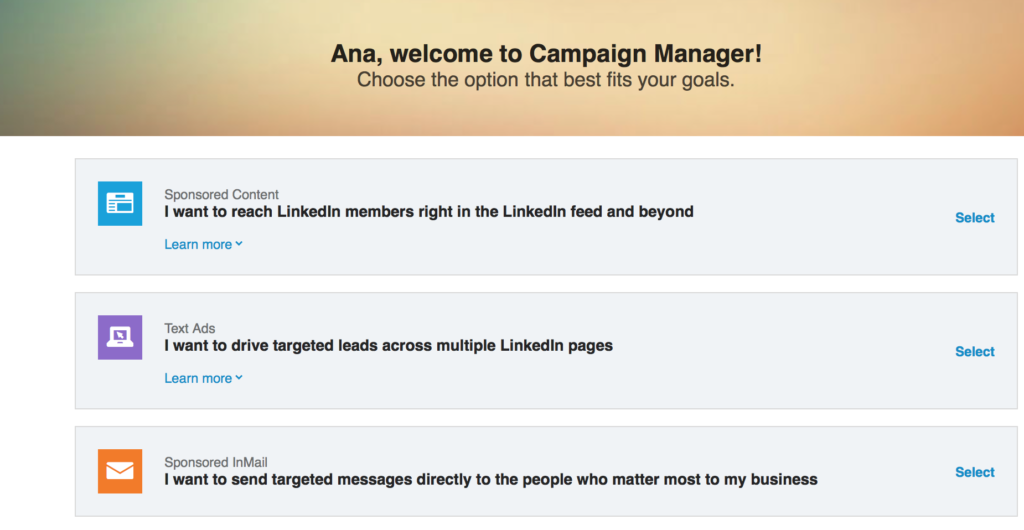 The process of creating the Ads is almost entirely the same, with a few small differences in creative.
For this example, we'll look at creating Sponsored Content. If you haven't created an ad account, you'll be asked to do so unless you're running Text Ads (which do not require a Page). If you do, search for the company name and select it.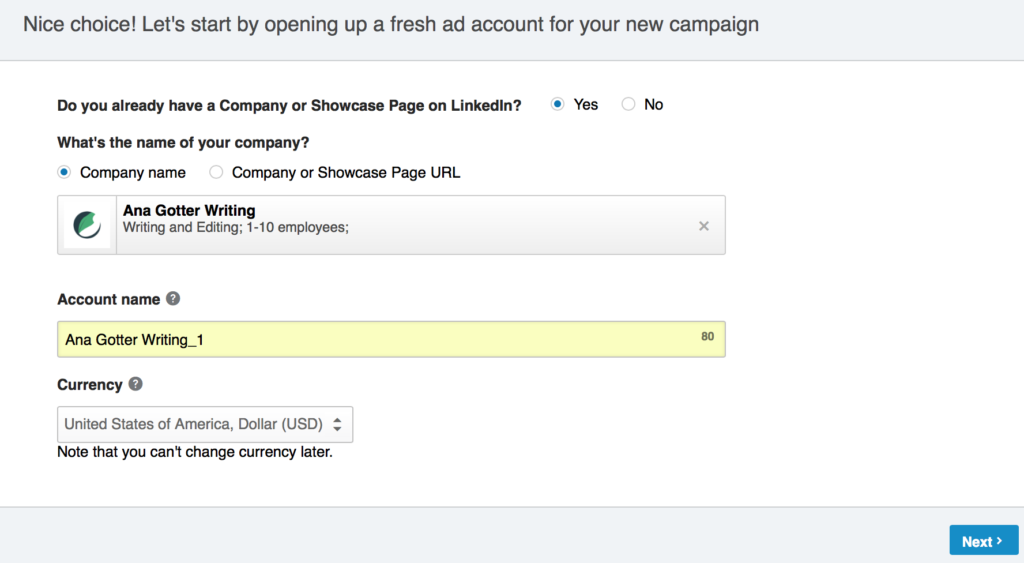 You'll then choose the language you want your ad to be displayed in, and to enter a campaign name.
Next, decide if you want to send users to your content or your Page (you'll have the option of adding a "Follow" CTA), or if you want to use LinkedIn's lead gen forms.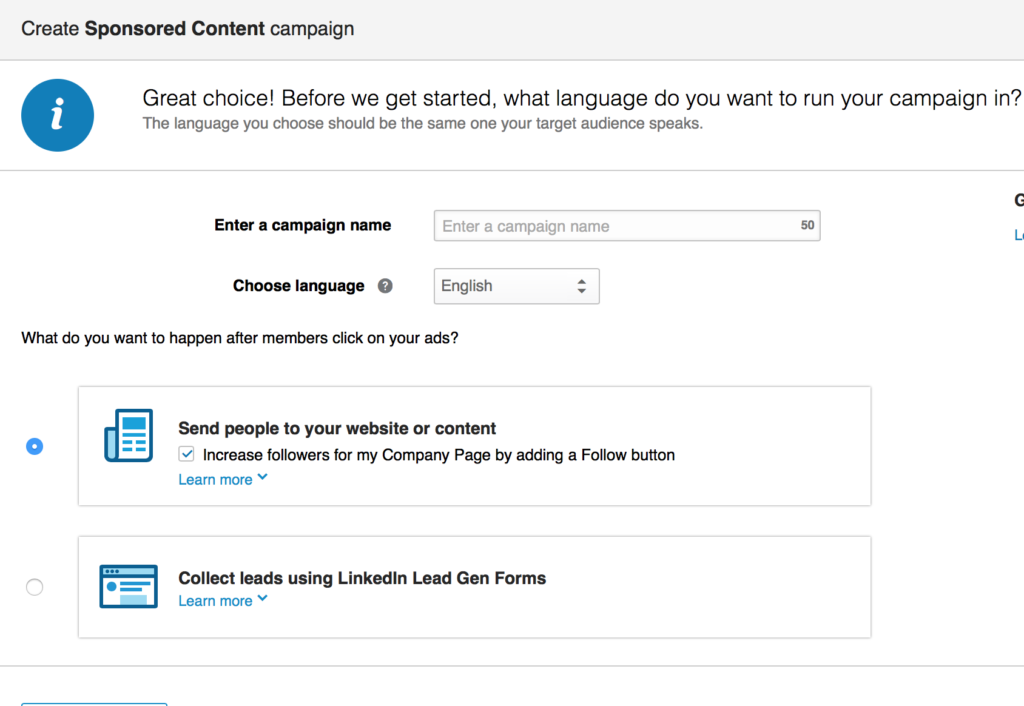 On the next screen, you can choose a company update to sponsor or create a new one.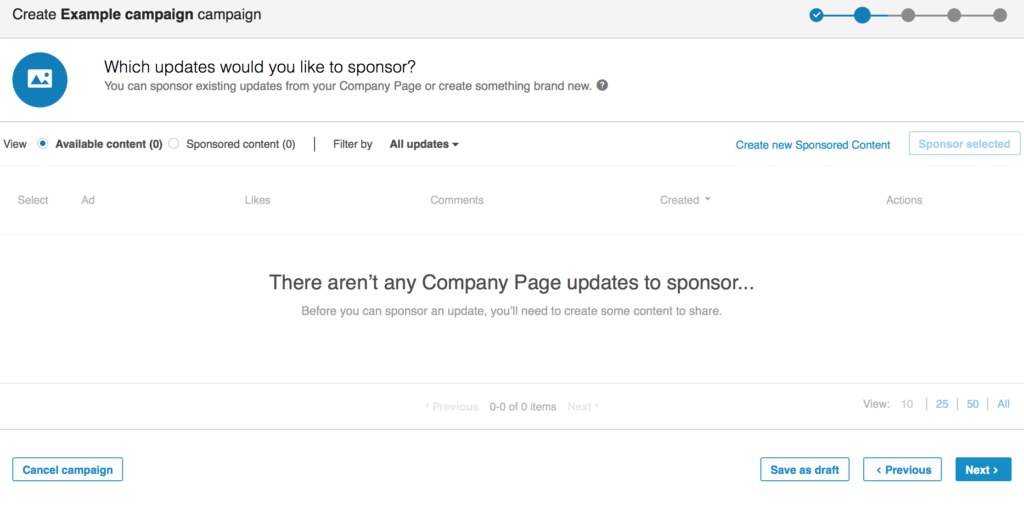 To create a new one, add text. You can also upload an image.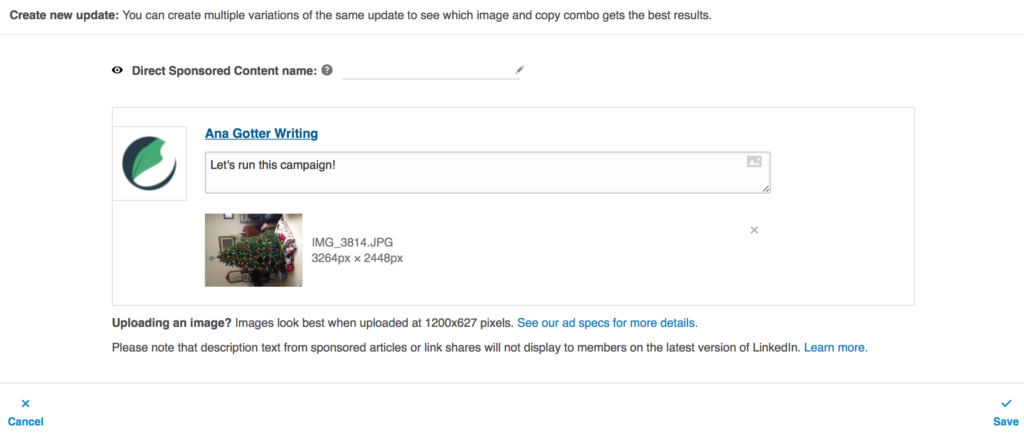 Next, you'll choose your targeting. Targeting options include targeting by:
Location
Company name, size, or industry
Job title
Job function
Degrees
Fields of study
Skills
Age
Years of experience
Gender
LinkedIn groups belonged to
Schools
Job seniority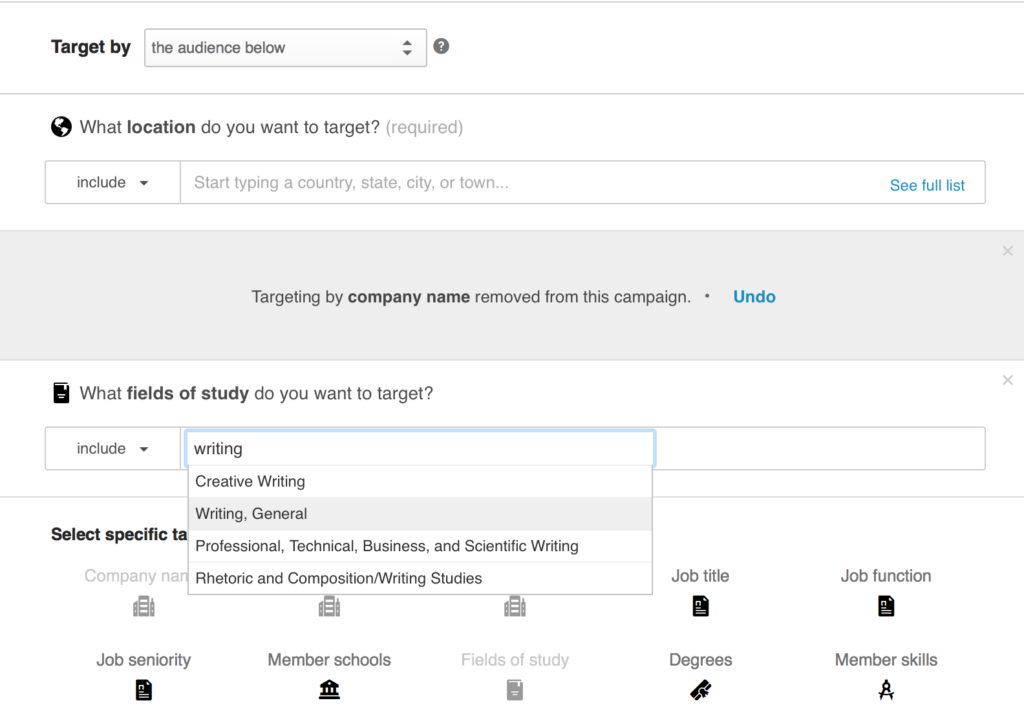 After targeting, you'll make two decisions.
The first is if you want to enable your ads to be shown on LinkedIn's audience network, which means it will be shown on LinkedIn's partner sites. You'll also choose if you want to enable LinkedIn's Audience Expansion, which works similarly to Facebook's Lookalike Audiences, showing your content to people similar to your targeted audience. If you targeted Home Depot employees, for example, Audience Expansion might also show your ad to Lowes employees.
Next, set your budget. LinkedIn Ads do cost more than other sites like Facebook Ads, with the recommended bid for CPC being over $8 and over $44 for CPM. You'll set your daily budget and your maximum bid. You'll also set a start date and an end date if you choose. You can also choose a total budget, which I recommend doing.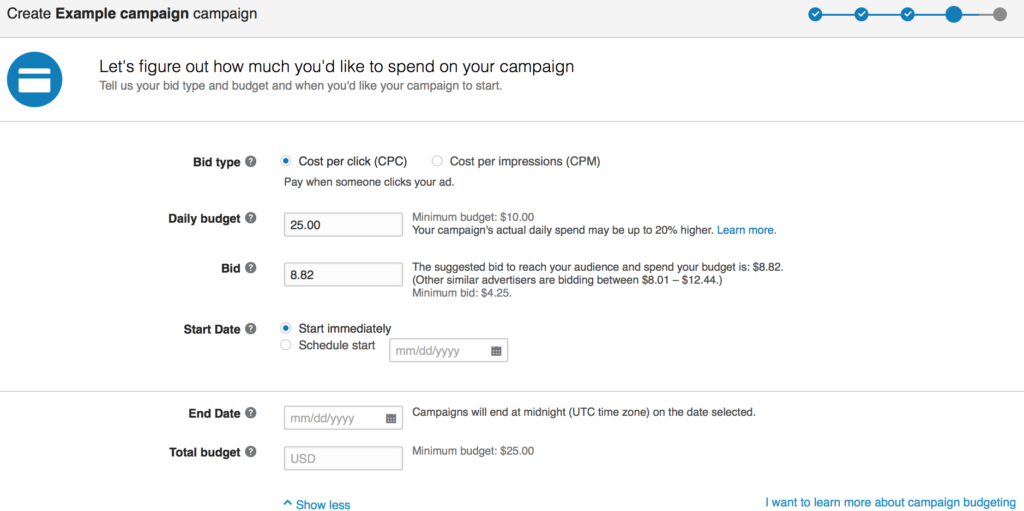 That's it. Your ad is ready to submit for approval.
You'll see small differences in the creatives section of different ads. Text ads, for example, let you choose headlines, images, and descriptions, as seen below.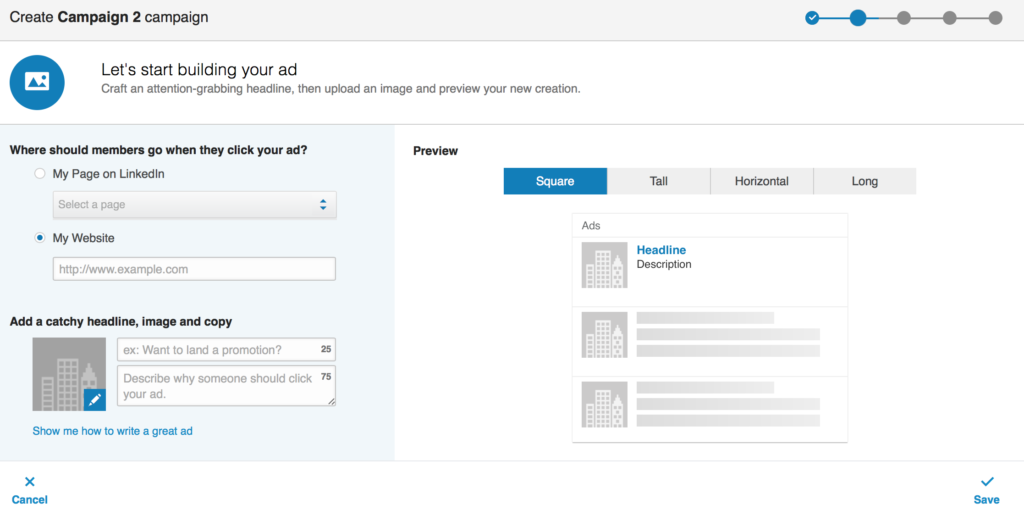 Conclusion
LinkedIn Ads may not be the perfect fit for all businesses, but they can be a great option for the right businesses.
B2B businesses and businesses looking to hire new employees can end up right smack-dab in front of their target audience thanks to these ads.
The key is to remember that you're showing these ads to a professional audience because it's a professional site; people use the platform to network, look for jobs, look for new hires, and connect with industry peers. Your content—and your copy—should be created accordingly.
Logic (with strategies like features/benefits) and conciseness will weigh heavily if you want users to click.
What do you think? Have you used LinkedIn Ads? Have you ever clicked on any? What best practices work for you? Leave us a comment below and let us know what you think!
[ad_2]

Source link







Social Media Agency, Social Media, Digital Marketing, Digital Marketing Agency, Search Engine Marketing, SEO, digital marketing agency dubai, video content marketing, crossfit marketing dubai, video marketing dubai, digital marketing agency abu dhabi, facebook marketing dubai, facebook marketing abu dhabi, digital marketing agencies in dubai, social media agency, content marketing dubai, content strategy dubai, branding dubai