22 Apr

Facebook Ad Carousels Explained
Wondering Why Facebook Carousel Ads a Good Idea?
We were recently asked to explain Facebook Ad Carousels by a blog visitor , so we decided to give you more information on this advertising format…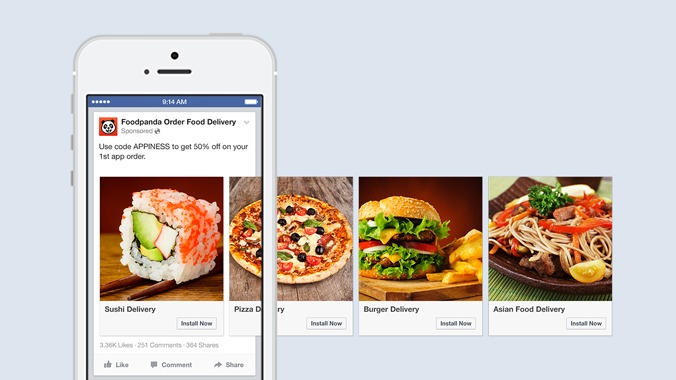 Well according to the statistics on Carousel Ads released by Facebook themselves:
30% – 50% Lower Cost-Per-Conversion
20% – 30% Lower Cost per Click than Single Image Ads
What makes them super effective is that you are able to showcase multiple images and videos. The thing to note is that these images and videos should be 1:1 resolution ratio, so think square. How you use the opportunity to incorporate multiple images and videos in the ad is up to you, you can choose to show off different products and services, or in-depth features of a single product or service.
First, we should really explain what the Ad Carousel format is, it is basically a scrolling Ad format that lets you showcase up to ten different images and videos, each with it's own headline and link, giving you a highly customizable opportunity. The format details are:
Minimum / Maximum number of Cards:   2 / 10
Image format type:   jpg / png
Video file type:   3g2 / 3gp / asf / avi / divx / mpeg / mpg / mp4 / mov..  (click here for the rest)
Video Max Size / Length:   4GB / 240mins
Image Max Size:   30mb
Video Resolution:   1080 x 1080
Video/Image Ratio:  1:1
Headling:   40 characters
Text:   125 characters
Link Description:  20 characters
And as usual keep the text in the image under 20% otherwise be prepared to be penalized with reduced delivery and increased cost per click.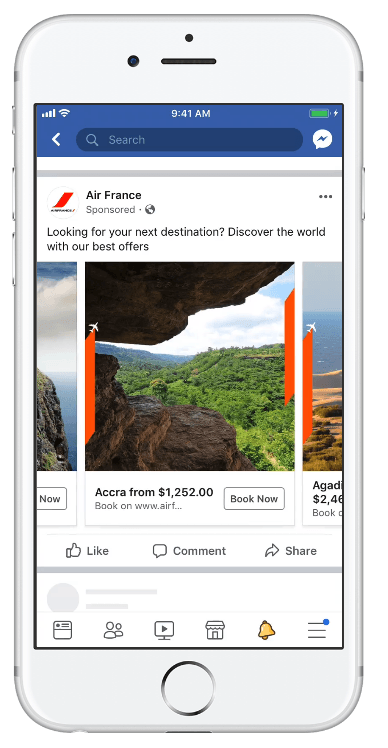 There are a lot of reasons to use a carousel format ad, other than what was explained earlier, these ads help you to engage more people in a dynamic manner. People just love swiping, one swipe means there is some interest, two swipes or more, well that is an engaged viewer. You can also make these ads more inviting by using them to create a narrative journey or step by step guide.
Using Facebook Carousel Ads for Awareness
If you are using this ad to reach out to new people, make the first photo or video you use the most eye-catching. You can determine this by looking at the kind of content that has generated a lot of engagement on your social media channels, or in previous campaigns to different audiences. Be wary of content fatigue though when using the same content for repeated campaigns.
Remarketing Campaigns
Of course with remarketing campaigns you are reaching people who are already familiar with your website, digital presence and business. Retargeting people who have visited a specific product's page with ads that detail the features of that product or service in more detail can yield surprisingly results, especially if you focus on unique selling points that might get them over the line or add a compelling call to action like a discount code.
Get them ACROSS the Line
E-commerce business? If you are using Facebook Pixel's advanced e-commerce integration well, then you can target people who abandoned the checkout process, or added a particular product to their cart but never completed their journey. You will be amazed at home many people start the shopping journey only to be interrupted by a random but temporary distraction.