06 May

5 eCommerce Conversion Mistakes Sabotaging Sales

'Customer struggle' is real.

And unfortunately, it's only getting worse.

EConsultancy ran one study yeeeeeaaaaaaars ago that discovered UK companies were losing "24% of their annual revenue due to poor customer experiences."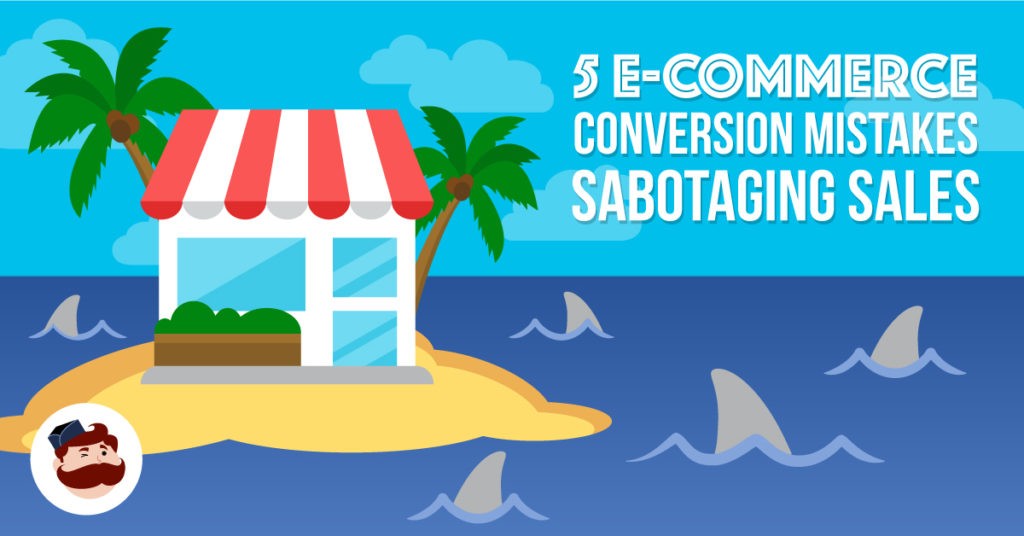 That's so bad that it brings up the 92:1 ratio. The one that says companies focus almost exclusively on NEW, without giving a dollar or pound or loonie to their existing ones.
Think that's gotten better over the past few years? Guess again.
The good news is that you can start by fixing these common 5 conversion mistakes that force people to Bounce.   
Here's where you should start.
Mistake #1. Overspending on Customer Acquisition
You've read all the stats. All the previous posts.
You know that carpet bombing people with more untargeted ads, without – you know – actually taking in their preferences, interests, or purchasing history is… not a great idea.
Because Search –> Click –> Convert doesn't always happen. In fact, 7-9 visits is typically the norm. They're browsing – looking and hoping and praying – for something. Specific.
And too often, those things don't exist.
According to Google's Customer Journey to Online Purchase, here's what your buyers are doing prior to purchase: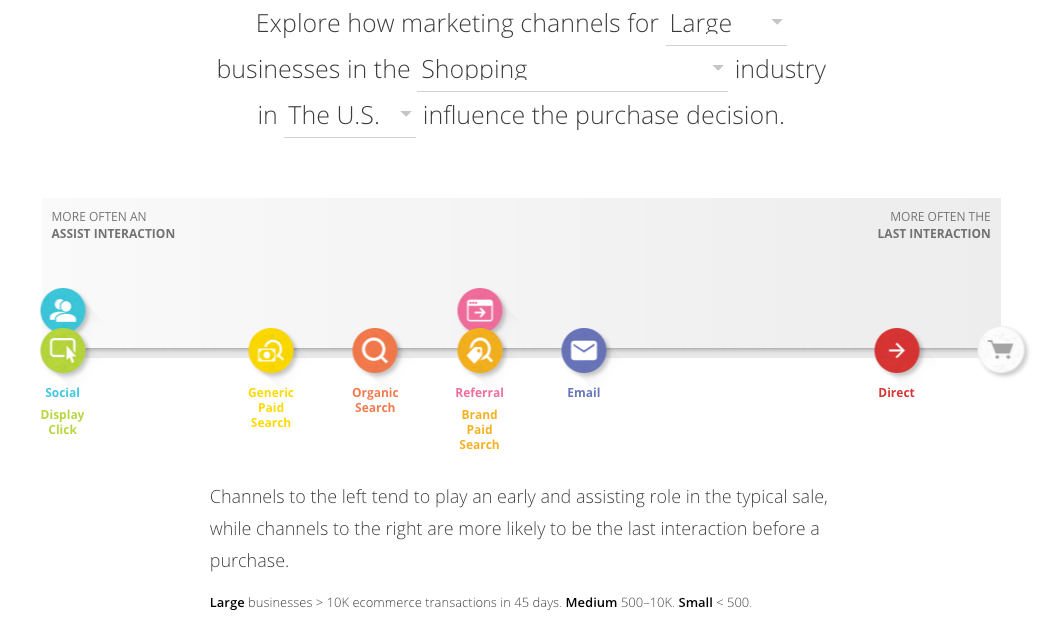 They're finding your products (first) through social referrals and display ads.

They're forming interest in particular products and conducting generic searches ("men's jeans")

They're visiting websites, clicking around, adding to cart or pursuing customer reviews. But still not buying (at least, not yet).

Instead, they leave. Get distracted or go check out alternatives.

Before finally coming back to the site to buy. Or not.
Of course, Google Analytics is lying. All you see is that last step. So you see aggregate AdWords conversions and think MOAR ADS!
Without seeing all the other stuff assisting that sale.
Years and years and years and years and years and years and years (and more years) ago, two little plucky organizations you've probably never heard of, Bain & Company + Harvard Business School, conducted a research and found that, "increasing customer retention rates by 5% increases profits by 25% to 95%."
Turns out, there's something to this whole 'loyalty economics' thing.
'Cause they also found that those numbers are "greatly exaggerated online." Meaning: way worse.
When the two parties met up again to update their study for the online world, they found that most new customer acquisition is unprofitable. Instead, online companies typically spend 20-40% more than good old brick-and-mortar alternatives.
So an online grocer, for instance, will need to retain a single customer up to 18 months just to recoup their initial ad spend.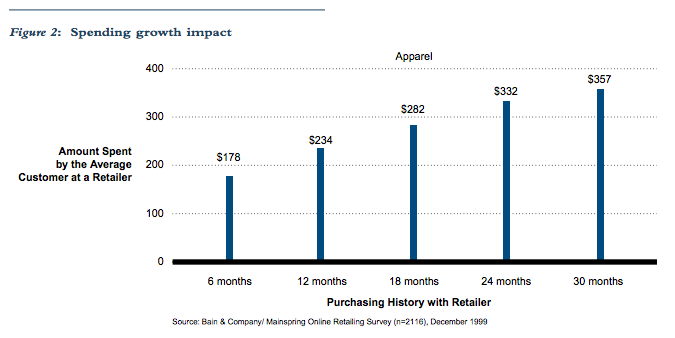 As you can imagine, that's not good.
So… where should those numbers be?
According to John Lott of Spearmint Love about their success selling on Facebook:
If you're selling things at 25% margins, you're going to need a higher return to make that make sense. For us, we're looking at ad spends where we're getting at least $5 of revenue or more, preferably closer to the $10 mark for every dollar of ads spent," 
(He also just so happens to run an investment firm on the side. No Biggie.)
Cost of acquisition is John's number one metric to watch. And Spearmint Love's insanely low one is a driving reason behind their 1,100% revenue increase in 2016.
So… how do they do it?  How can you possibly bring in at least $5 bucks for each ad dollar spent?
A Facebook sales funnel. Custom audiences. Behavioral targeting. The works.
You head over to their site and checkout a specific product. In this case, an adorable little grey whale long sleeve onesie.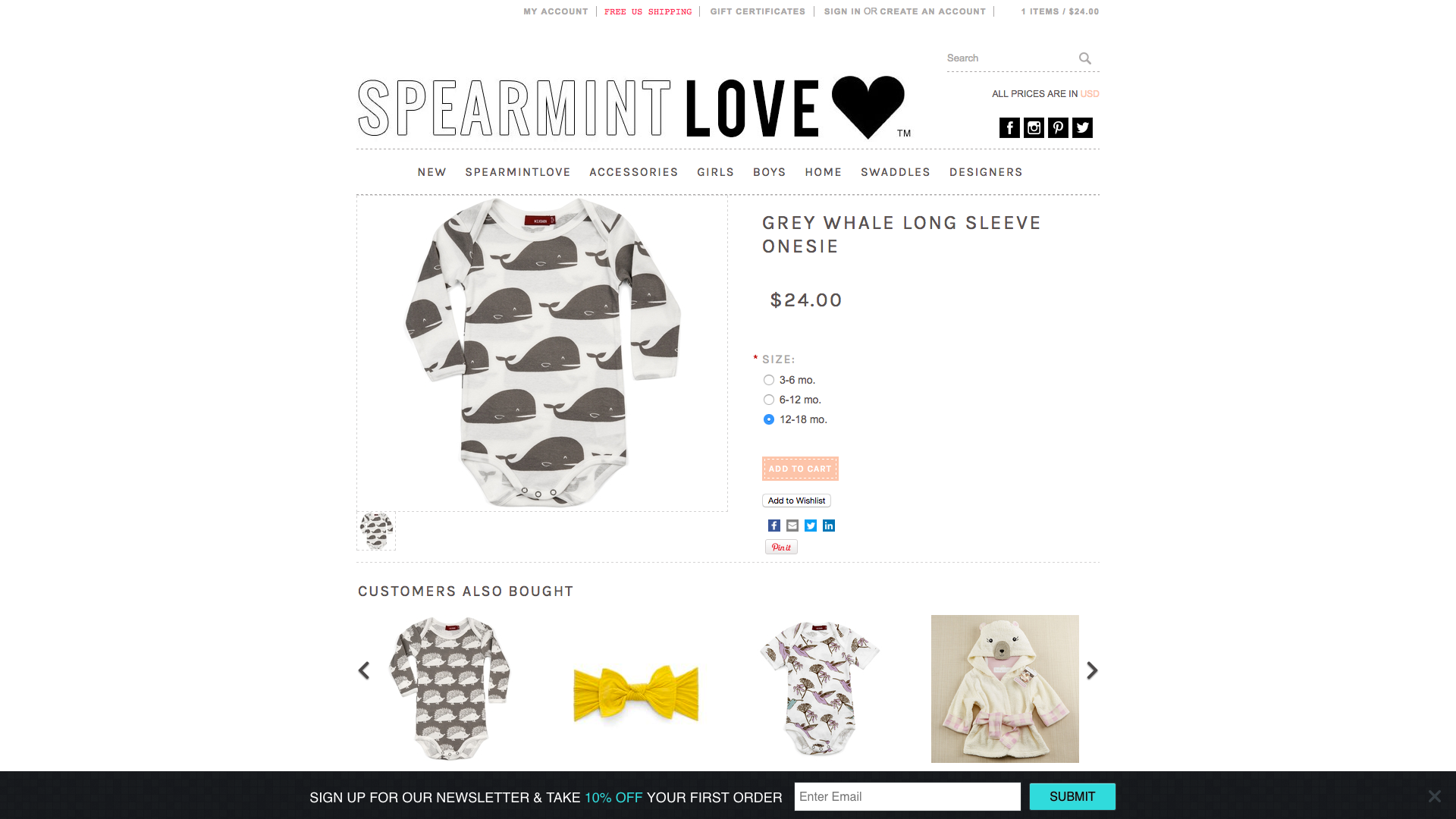 It's nice. But I'm on their site right now to find eCommece examples for this post. Not actually buy anything. So I start to move my cursor up to the X when they made a valiant attempt to get me to stay just a little bit longer.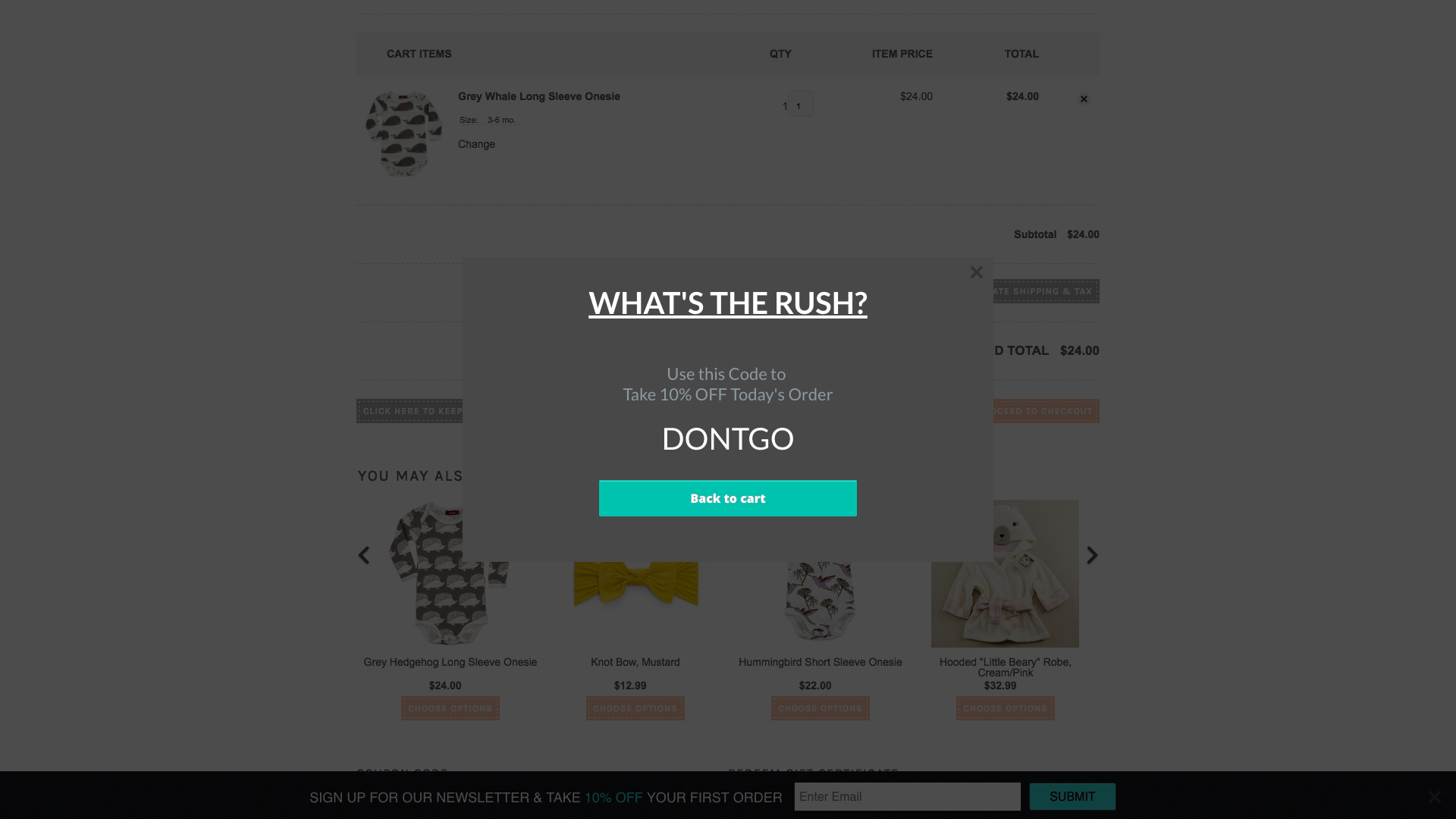 Despite the excellent use of a discount overlay (we'll look at some terrible examples in a minute), I bounce.
But just a few minutes later on Facebook, they find me again with the same adorable grey whale onesie I was just looking at.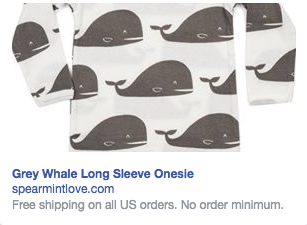 How? Dynamic product ads.
The pixel got me. The feed pulled in product data. The ad template was customized accordingly. And as a result, the ad actually caught my eye (instead of being ignored).
Mistake #2. The Lack of Third-Party Salespeers
Nearly a decade ago, toy company Step2 started gaining traction on Facebook.
Over time, they built up 20,000 product reviews across their portfolio with some help from social commerce giant PowerReviews.
The results, as they say, are history.
Step2's marketing director, Tena Crock, told the Wall Street Journal that website sales leaped 130% year-over-year.
Social commerce ain't some newfangled BS trend. It's a $30 billion industry.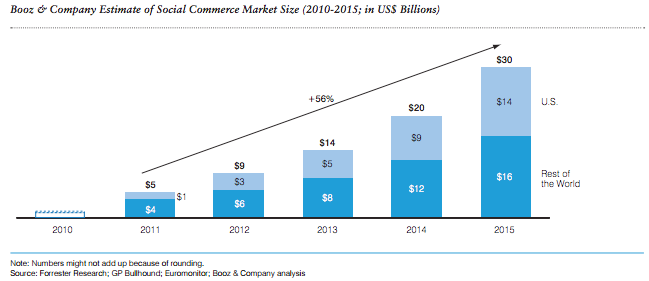 Y'all already know peeps are banner blind. And installing ad blockers as quickly as humanly possible. Which is about to become worse as Apple loads them on iPhones and Google adds them to Chrome.
People instead are turning to social reviews from their peers in order to "discover, evaluate, purchase, and engage", according to some.
According to one study, 92% of consumers trust peer reviews more than branded messages. And another survey from Dimensional Research and Zendesk showed that 90% of positive reviews influenced purchases, while 86% of negatives ones did too.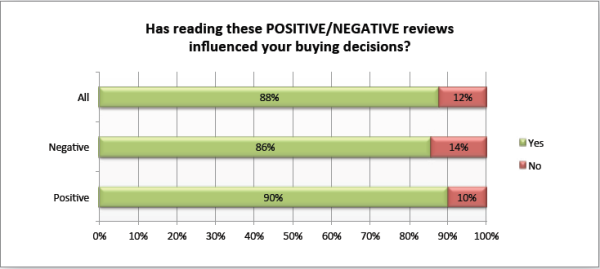 Dan Hinkley ran his own survey and reported on Moz that any negative reviews might prevent 70% of purchases.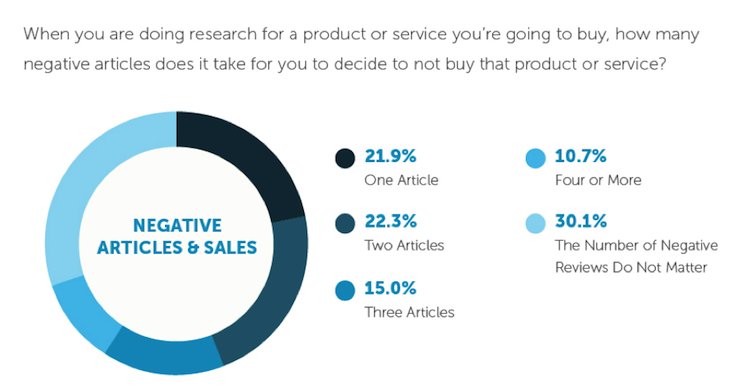 So. Why then, when I go to one of the hottest online retailers, are there no reviews in site?!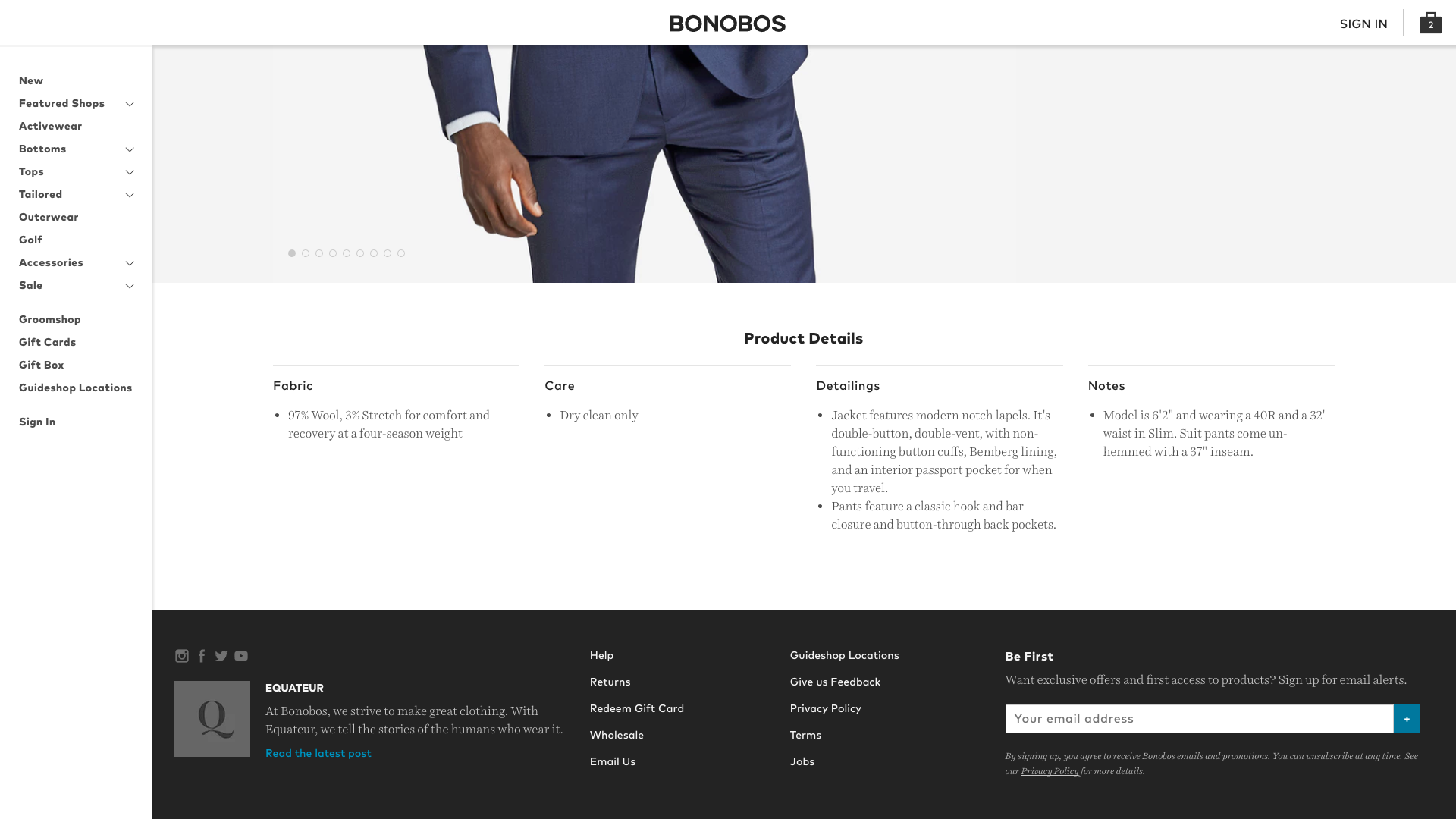 This is a $500+ B2C product. A 'luxury item' that you typically need to feel and touch and wear in order to get a feel for purchasing motivation.
And not a single review site? (Get it?)
Now compare that to mattress 2.0 company Helix. Once again, a 500+ B2C product that you typically want to touch and feel and lay on prior to purchase. So there's a psychological barrier for consumers to purchasing online.
They, however, circumvent that hesitation with a little scrolling review widget in the lower right-hand corner on every single page of their website.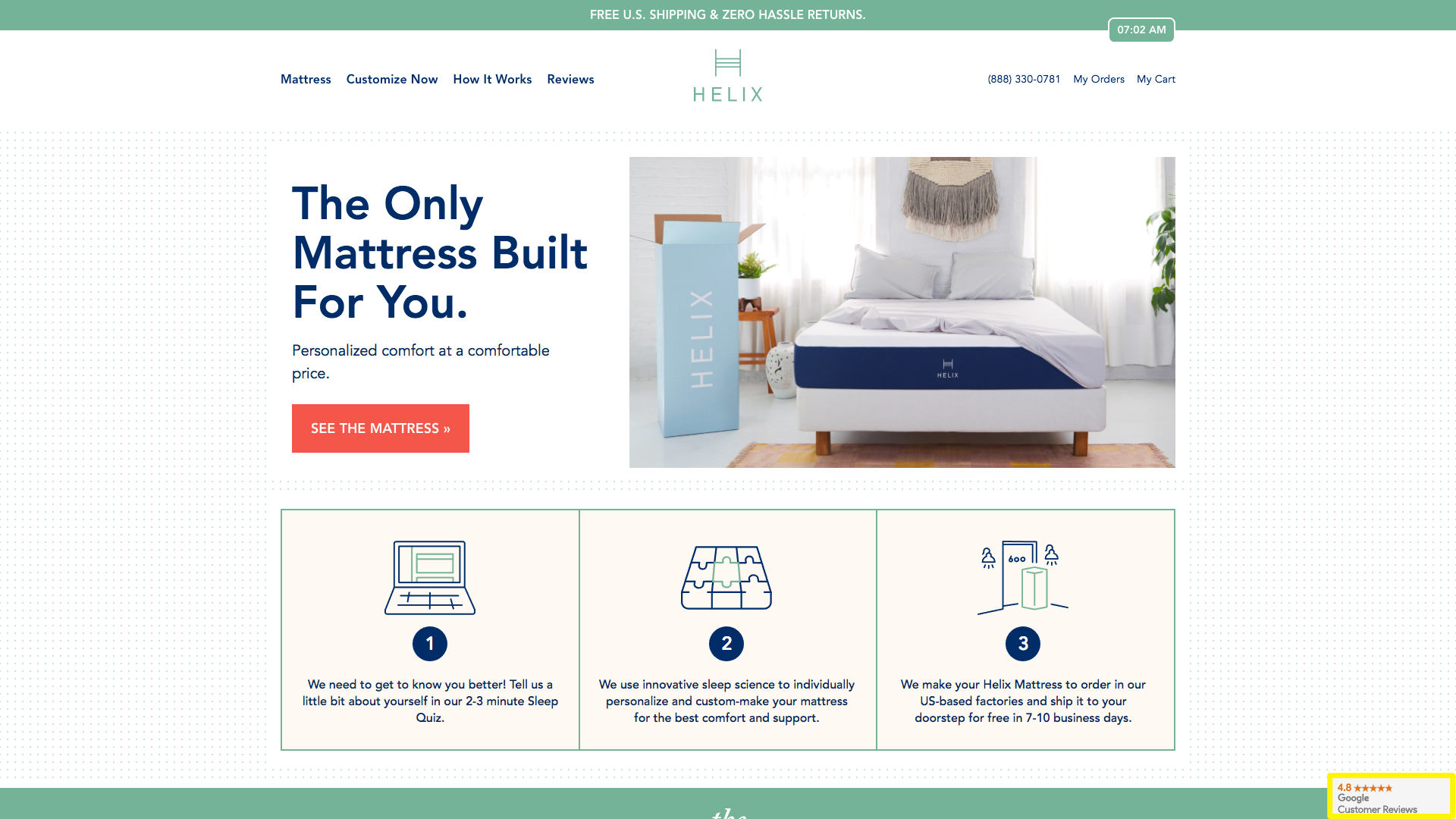 Granted. They're basically selling one product (albeit, with variations). But they also have engineered their online sales to be that way from the start. Giving themselves a streamlined platform that has advantages.
Like, for instance, aggregating reviews around their brand (instead of individual products) in order to provide new consumers with drool-worthy reviews from past customers.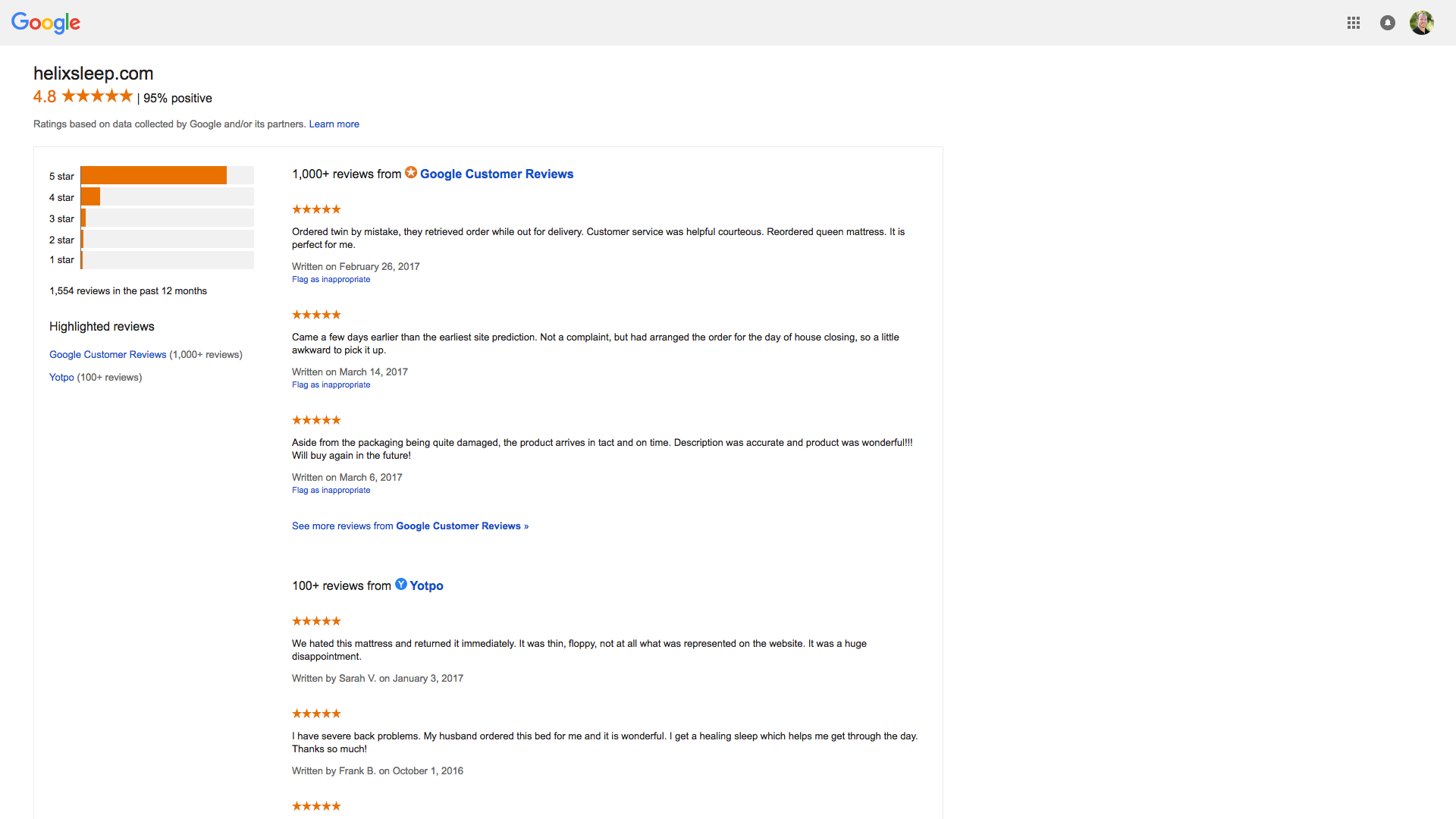 Mistake #3. Your Products are Too Easy to Forget
It's official. Men are idiots.
It's not our faults though. Our brains are just… different.
We miss the obvious signs right in front of our faces because we're too busy thinking about food or football or… other stuff.
However, I know, beyond the shadow of a doubt, exactly when my wife has been on a particular website.
There's a dead giveaway. A clue so obvious that Benedict Cumberbatch isn't needed.
It's this:
An online shopping cart containing at least five different items totaling over a hundred dollars.
Now, I love my wife. I don't blame her for this addiction. (She won't even read this, so you know I'm actually telling you the truth.) She's not so much inclined to online buying, as she is to online shopping.
Turns out, my experience isn't atypical. There's actually data backing up this phenomenon. Consumers like to use shopping carts as wish lists.
We browse, add to cart to "save for later" (yeah, right) and then… forget. Get distracted by something else and lose the urgency required to sell online.
Instead, we abandon the cart.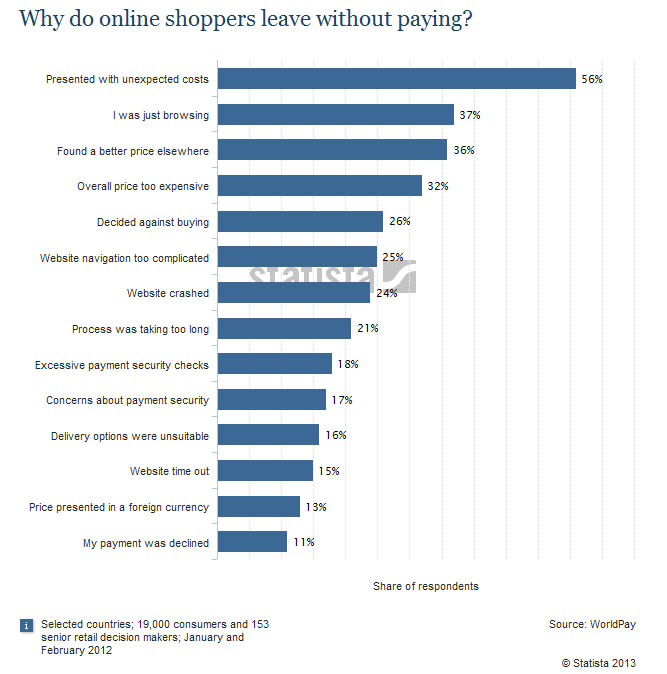 So. Don't let people forget!
Things start well on Bonobos. You add a product to the cart and it creates a sidebar (that also deemphasizes the rest of the site).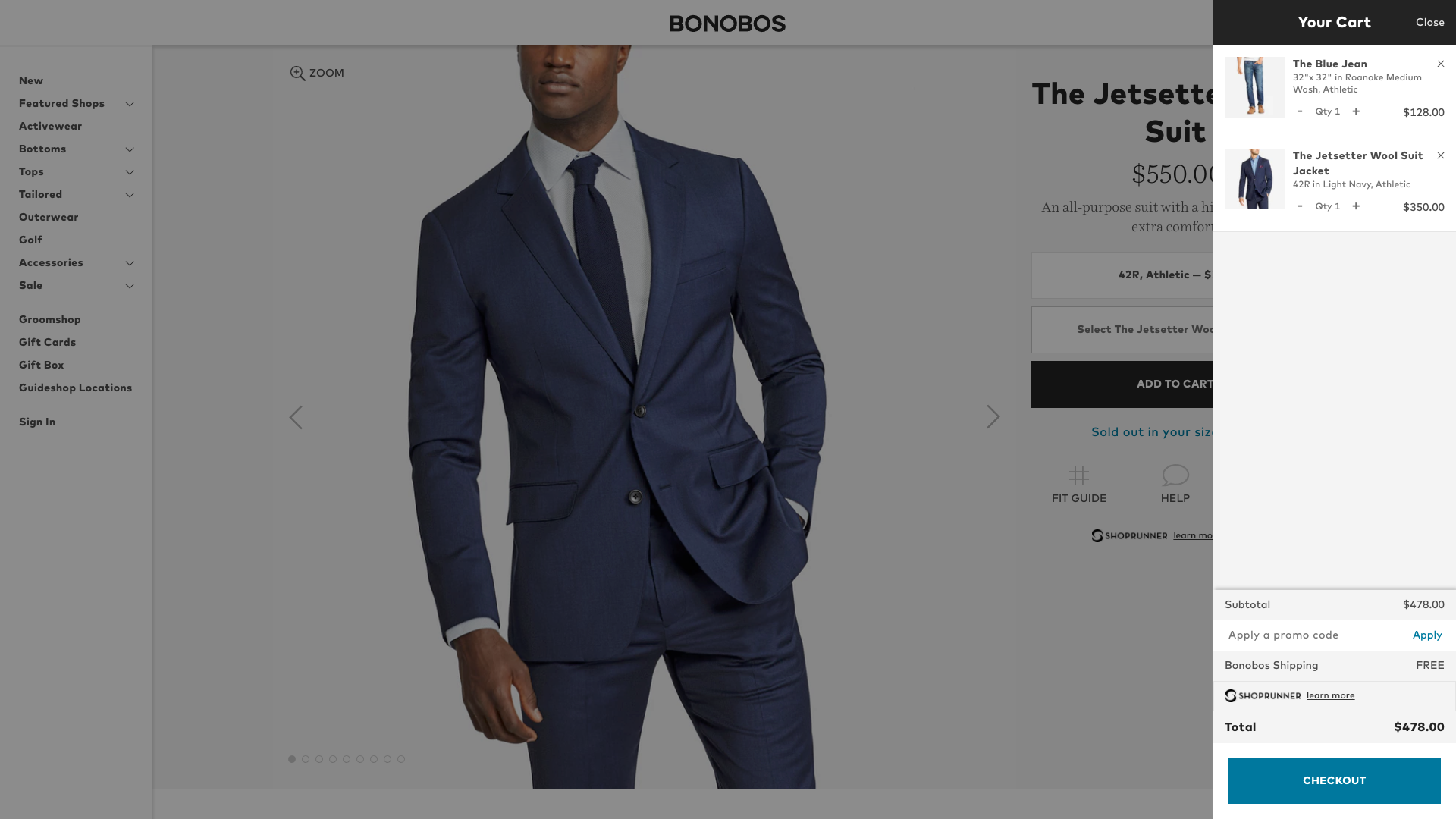 So far so good!
But let's keep shopping. You click away to a new product. And the only thing reminding you there's a product in your cart is a tiny little icon in the upper right-hand corner of your screen.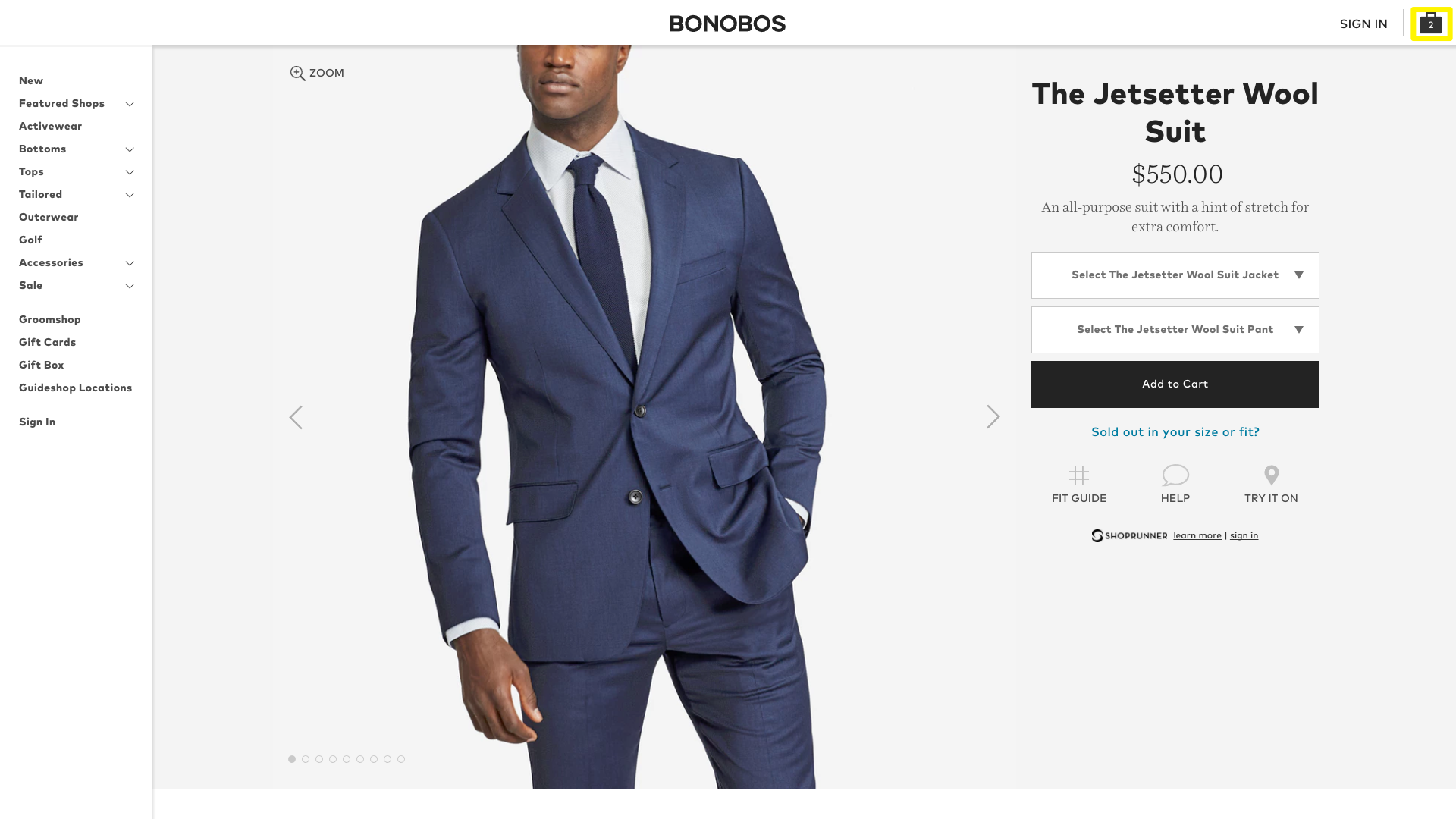 Now let's compare that to an online conversion giant: Amazon.
Here, you add a product to your cart and keep browsing. Instead of your cart disappearing though, the right-hand sidebar stays intact and follows you around.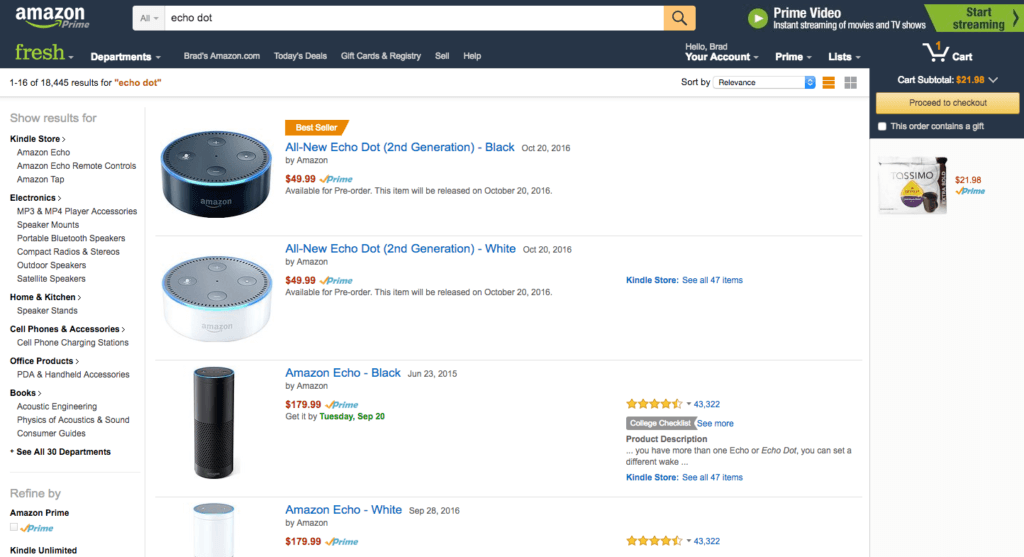 Once again, Helix excels with their personalized mattress-building conversion tool. Similar to a checkout flow (but better), they give you an option to Save your progress on the left-hand side. And they also ask for bits of information (like your first name) during the process in order to gain valuable insight to later retarget.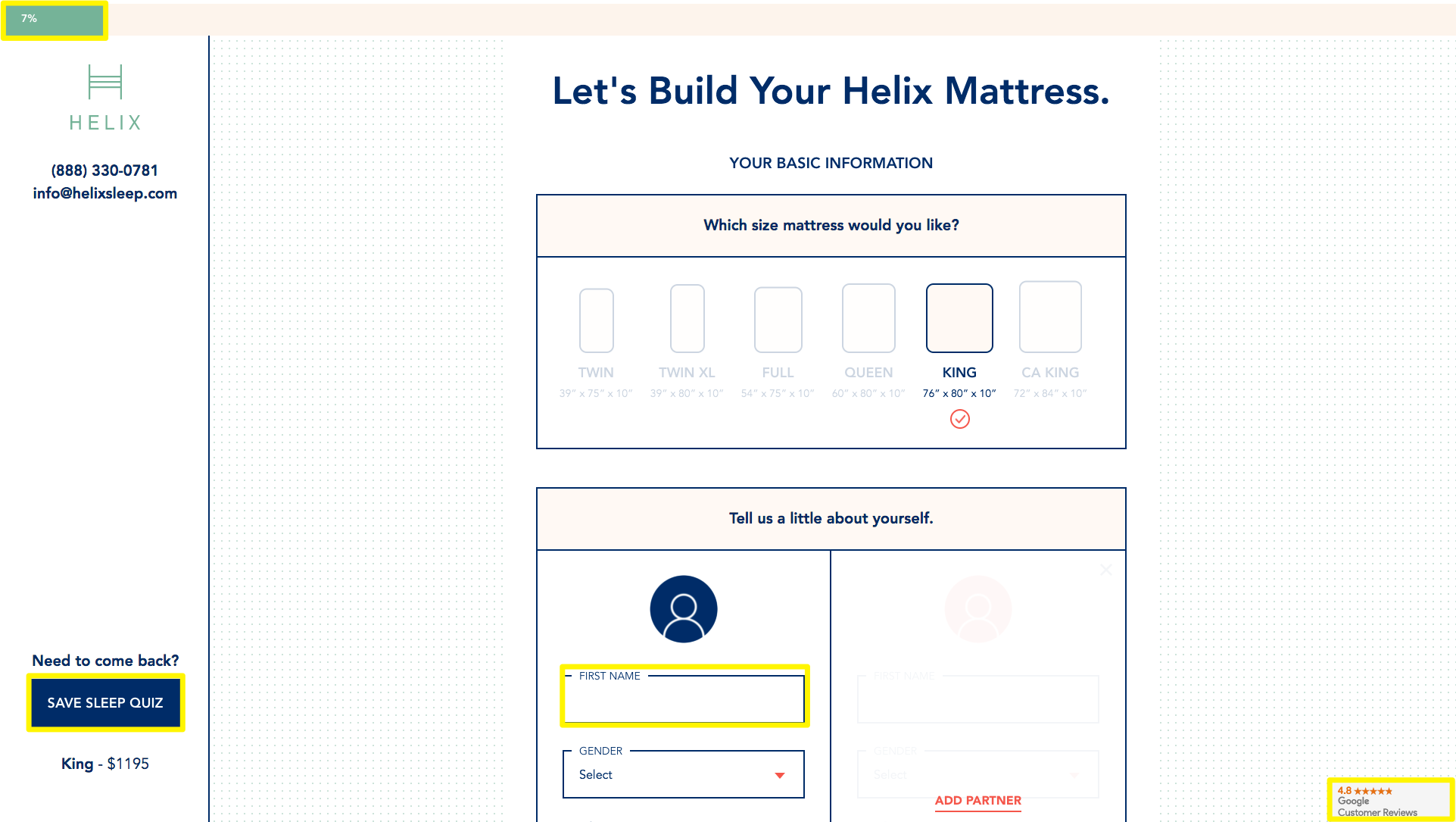 Mistake #4. Not 'Priming' Customers to Buy
One sunny afternoon, Sheena Iyengar  setup a jam station inside a local Menlo grocer.
First, she set out 24 bottles. That brought LOTS of people over. But not very many buyers.
Next, she only set out six bottles. And sales went up by six times.
The jam study illustrates how hard it is to buy when there are so many options. Instead, simplifying things can often lead to better conversions.
Slashing your product inventory in half isn't always the solution. So you turn to the next best option: priming.
Give a person the word red. And they're gonna instinctively choose a red apple or red strawberry.
The online advertising equivalent is message match. You deliver ads that tie into a specific product and retain the same graphics, colors, and value props. Like this so-ugly-they're-adorable pug example from Disruptive Advertising: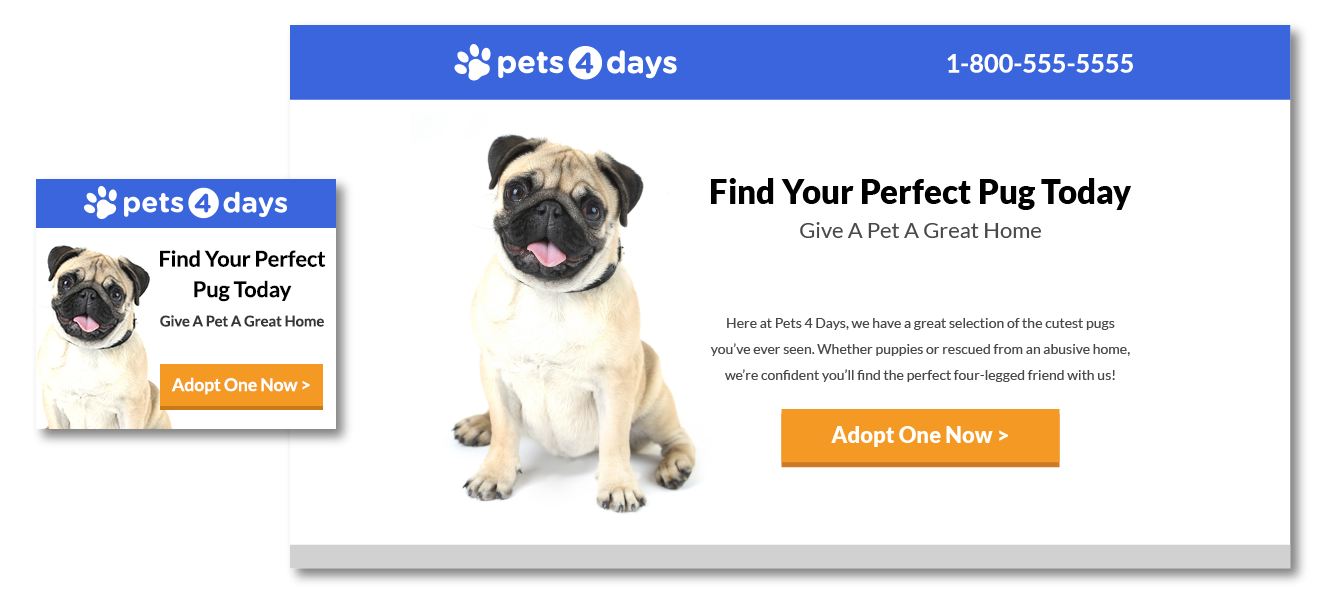 Message match also delivers an added bonus with an increased relevance score that lowers your Cost Per Click.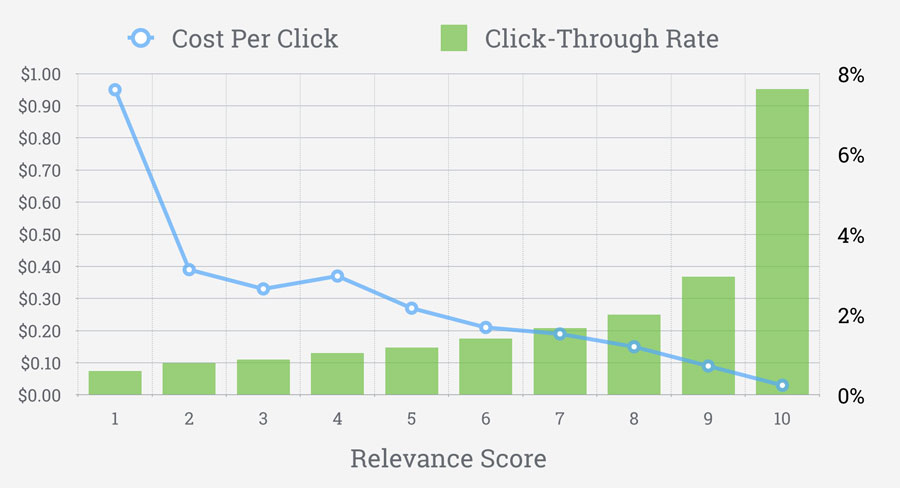 We saw one example earlier. The Spearmint Love dynamic product ad that showed the product we just viewed.
You scanners didn't miss that, did you?
If so, don't worry. Here's another from Nordstrom. This branded ad shows a simple woman in a blue dress with a white background. Click on it, and…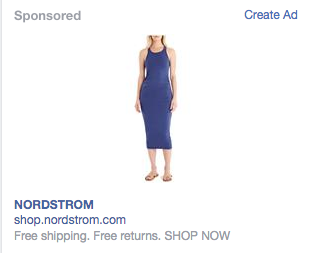 You see a product landing page featuring the same exact women in the same exact blue dress.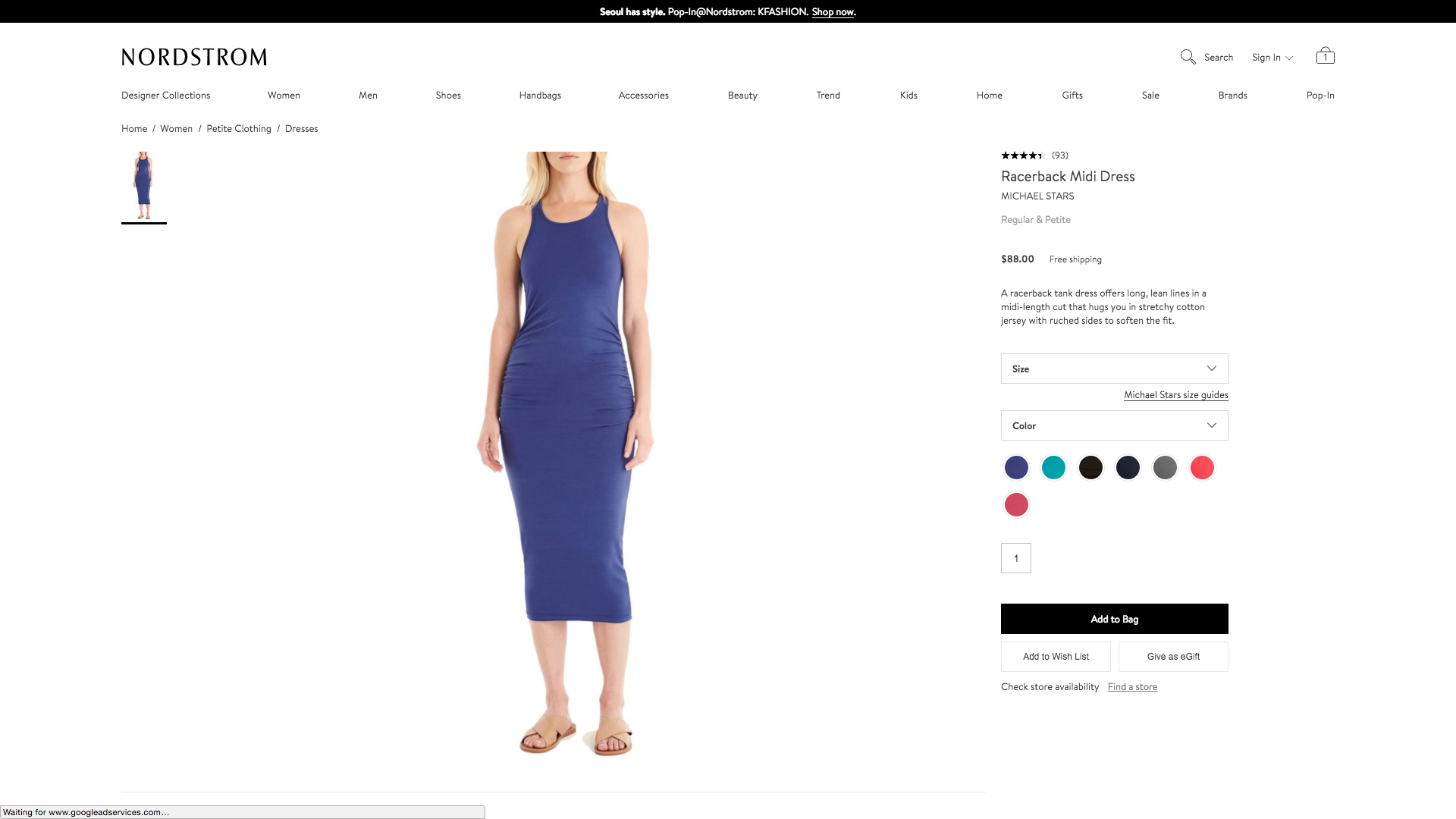 Great stuff, Nordstrom!
Except…
What's what?
The thing at the top. The black bar.
Let's zoom in to see the problem…

Nordstrom just used an ad to get you back to the site to purchase this blue dress.
And then they're using ill-timed internal CTA's to destroy any purchasing momentum you just had.
Here's why that's a bad idea.
Mistake #5. People are Already Distracted. Don't Give them Another Reason to Leave Your Site
People don't read online. They scan.
Distractedly.
This has been true for the past decade.
Years ago, the Nielsen Norman Group conducted an eye-tracking study that illustrated how people start at the upper left and scan to the right before progressing a little down the page (resembling an "F"-shaped pattern).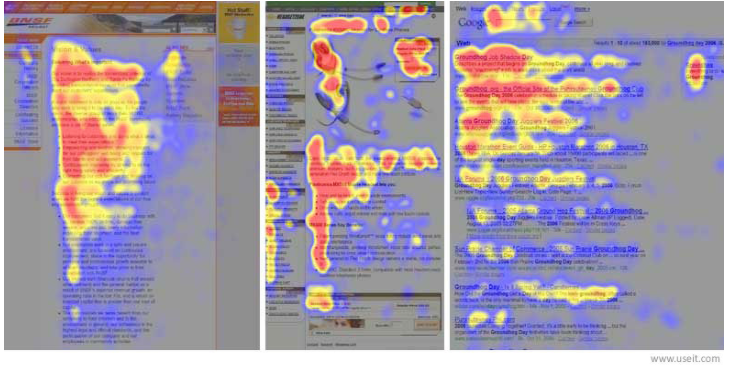 During this test, they found that "exhaustive (word-for-word) reading is rare".
Especially, they added, "when prospective customers are conducting their initial research to compile a shortlist of vendors". Which, as we've already discussed, is pretty much the norm.
This behavior only becomes exacerbated when you take into account how much we multitask online.
Another study from years back showed that people commonly have several browser tabs open at any given time.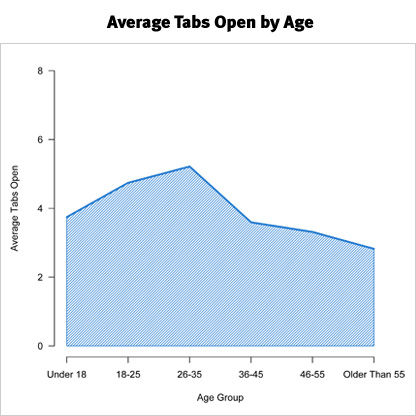 Unsurprisingly, this type of schizophrenic browsing through multiple tabs makes you feel like you're being productive, even though your brain is actually unable to process what you're reading.
According to data compiled in this excellent piece from Trello, multitasking is "literally altering your brain chemistry."
You feel like you're being more productive, but "it's actually making you scatterbrained, thus decreasing your ability to remember any single piece of information."
So someone's "session" (or individual experience on your website) mostly consists of scanning when they're barely paying attention long enough before being interrupted and bouncing away to a new tab. Forcing that "session" or shopping experience to be paused before coming back hours or days later.
Maybe. Possibly. If they remember. (Which they probably won't.)
That's why average conversion rates are a dismal 1-2% of site traffic. That's why the vast majority of people (like 75%) are going to need more than one visit (or "session") to convert.
Your 'Plan B' then, is to at least get someone's email address when they arrive on your site (ASAP) so that you have an increased chance to get them back at a later date to buy something.
But…
Timing is everything.
Today's email opt-in de jure is a pop-up that blankets the screen the minute a visitor arrives. And it's almost always a generic discount offered to all for the price of an email address.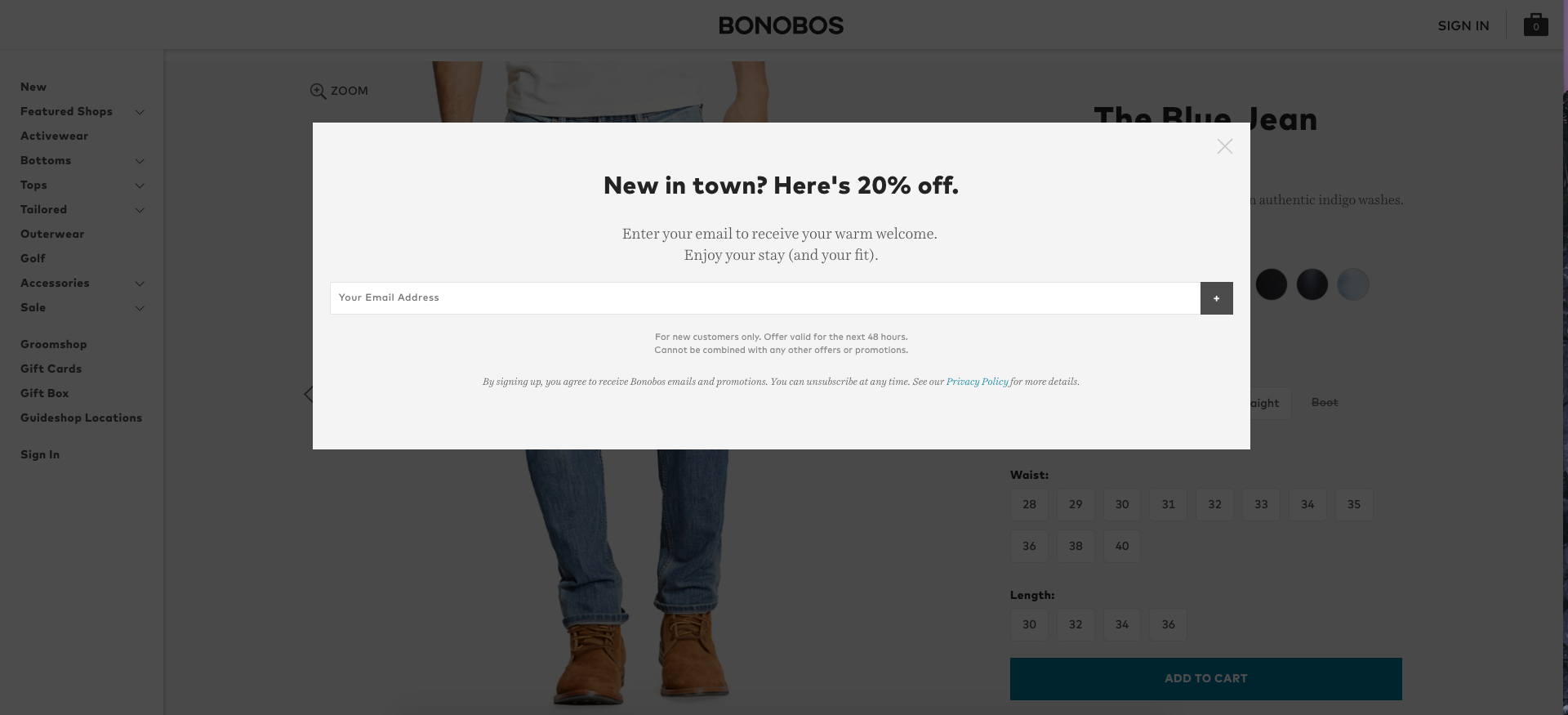 In theory, there's nothing wrong with this. Everyone's doin' it. But when you start implementing in practice, problems start poppin' up.
Now that we're this far into this little post, you're probably already spotting the problems.
For example:
If this person was arriving with 'high-intent', meaning they were properly primed with an offer that they're trying to redeem on your site, and when they arrive a different message pops up that's completely unrelated to said offer, they're now distracted and scrambled.

Most new visitors aren't going to be swayed by a generic pop-up message because they're still trying to get a lay of the land and conduct basic discovery. In other words, they're not ready to buy, so a discount at this point is irrelevant.

Throwing discounts around willy-nilly to all that enter is like giving away free money. You're also devaluing the value of your products; attracting those price conscious consumers who're only interested in discounts.
That's not the only place, though.
Requiring people to register or use their email prior to checkout is another big no-no.
According to the Nielsen Norman Group:
Most of all, registrations involves extra steps, extra hassle, and extra potential for things going wrong (whether user errors or site errors) and stopping the user dead in the water. The higher the interaction cost, the fewer people will complete a process."
Example?
Once again, let's pick on Bonobos.
You add a product to the cart. Hit Checkout, and before you can go on the following pops up: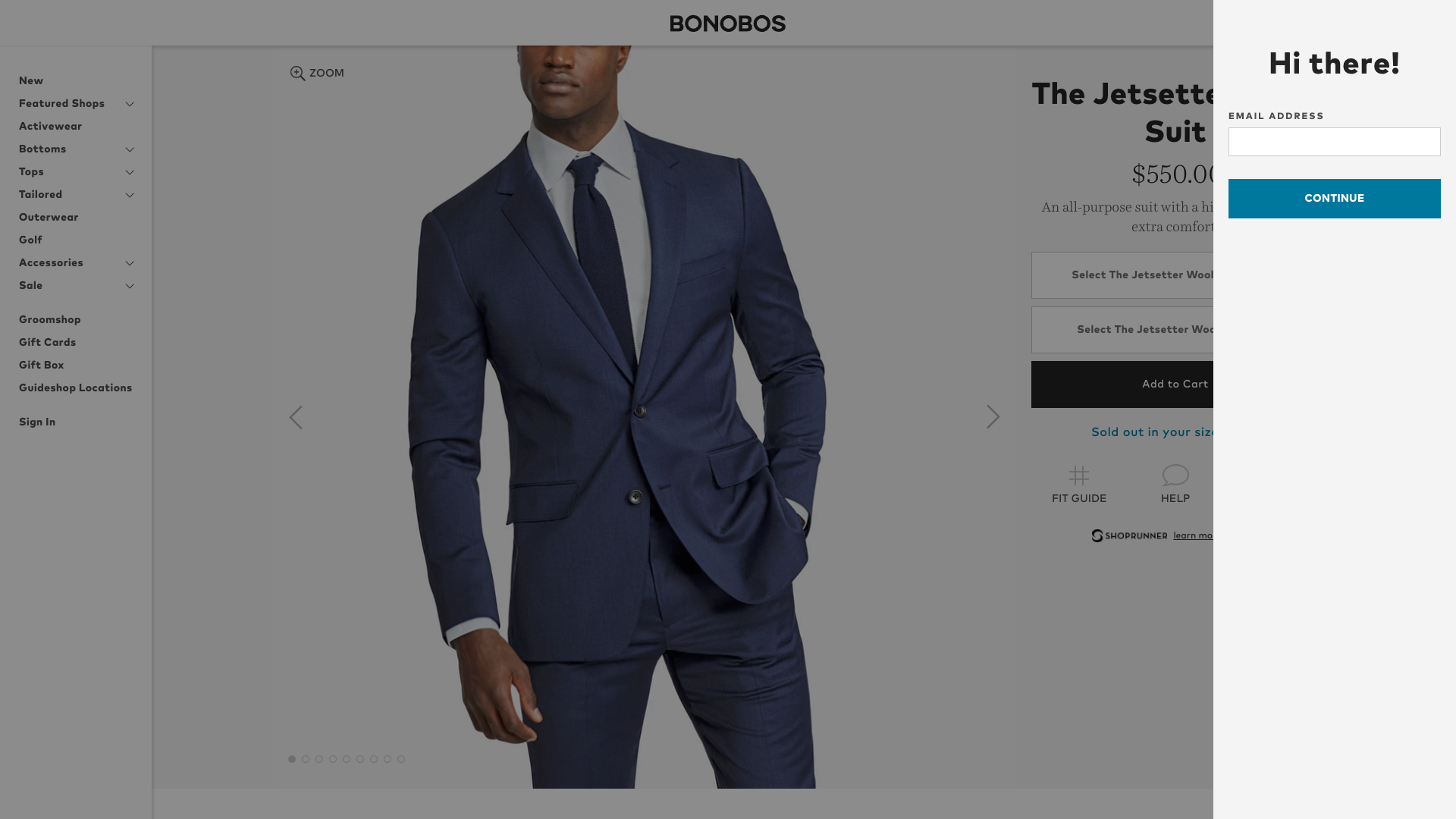 Huh?  
That's… it?  The only option?  
Let's see if we can skip this to simply checkout as a guest.
Keep hitting Continue until finally, you hit a roadblock: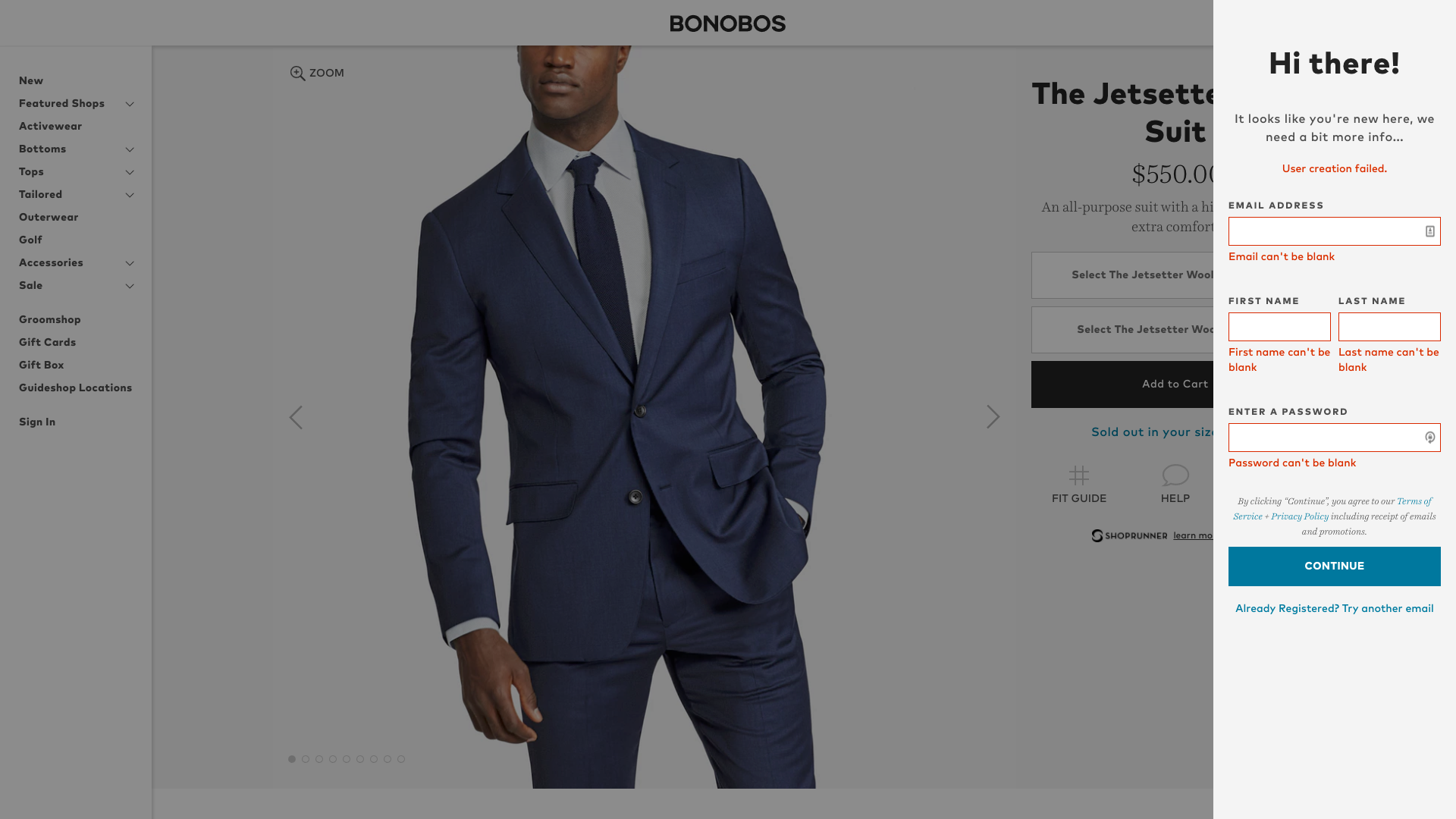 That's it. You can go no further. Trapped.
So you leave. Probably forever.
Conclusion
Increasing site conversions isn't easy.
There's a ton of variables at play, like where people are coming from and why they're coming and what they're doing on your site.
Things get messy, quickly, when you multiply this across tons of different products and categories.
But that doesn't mean increasing conversions has to be hard, either.
The trick is understanding that there's no 'silver bullet' tactic that's gonna save the day. No generic pop-up or plugin that will solve all your problems overnight.
Instead, it starts with understanding how consumers are behaving. They already have their quirks, habits, and unconscious shopping methods.
And we ain't ever gonna change 'em. No matter how seemingly weird or bizarre they are.
So instead of fighting them, embrace it.
Watch what users are doing on your site. Look for clues and patterns. And then adjust your site, tactics, and strategies accordingly.
Social Media Agency, Social Media, Digital Marketing, Digital Marketing Agency, Search Engine Marketing, SEO, digital marketing agency dubai, video content marketing, crossfit marketing dubai, video marketing dubai, digital marketing agency abu dhabi, facebook marketing dubai, facebook marketing abu dhabi, digital marketing agencies in dubai, social media agency, content marketing dubai, content strategy dubai, branding dubai